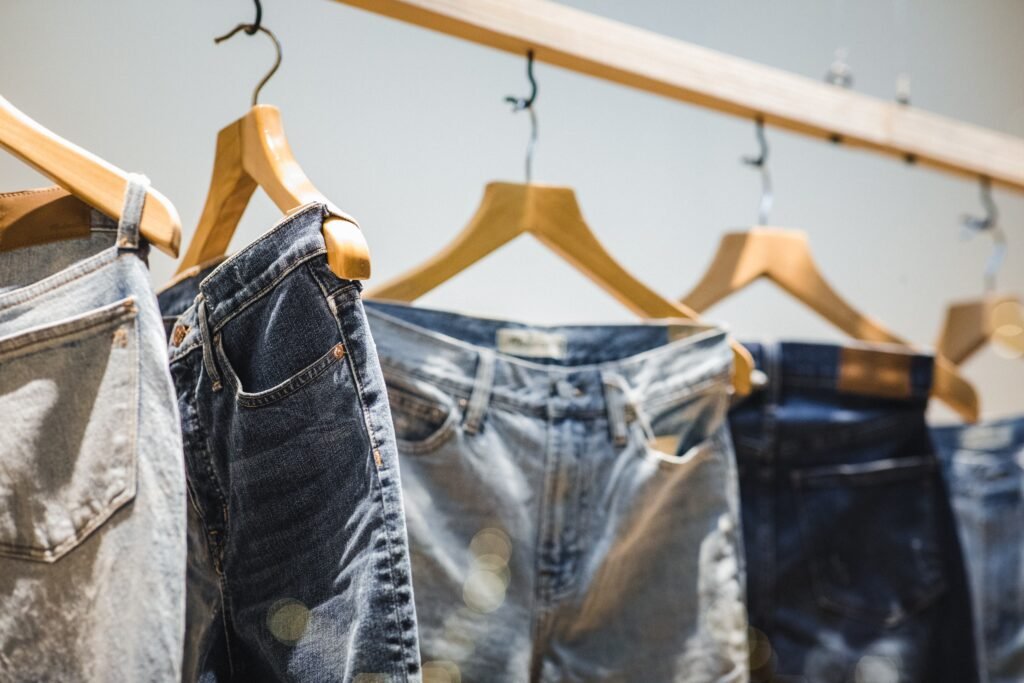 Jeans or denim as they are sometimes called, are one of the most popular casual wears for men. They blend perfectly with most types of shirts and can be worn to almost all events – save for a black-tie gathering.
Before now, shopping for a pair of jeans was pretty easy because the choices were limited; they mostly came in blue or black colors, always had five pockets and fit the way jeans well.
However, thanks to the growing number of brands, new colors and a variety of designs and styles have been introduced, making the buying process more challenging.
Fortunately, there is a guide that can help make shopping for jeans less confusing and you are reading it. Here is everything you need to know about buying jeans.
Denim Fit
The first thing to consider when picking out a pair of jeans is the fit – how would it fit? Essentially, the fit refers to the style of the jeans or how the legs are shaped or cut.
The Skinny Fit – This is the newest member of the jeans family and the snuggest cut of jeans available today. The style features an ultra-tight fitting and a narrow leg opening. In other words, it hugs your legs from hip to hem.
The Slim Fit – These are the in-between kind of jeans – not too tight or form-fitting and not too loose or wide. They are straight through the hip, slim through the thigh with a tapered leg opening. So if you're looking for an alternative to skinny jeans, slim cuts are your best bet. This fit allows you to feel very comfortable and still look trendy. Also, they look great with any footwear, including sneakers and boots.
The Straight Leg Fit – straight leg jeans are also referred to as regular or straight cut jeans. It is a very popular style and one of the most conservative cuts worn by the majority of men worldwide. Typically, the jean is cut more or less the same all the way down, which means it narrow in the thighs but looser in the knees and calves. Unlike the previous options, this denim has a fairly large leg opening. If you're going for this fit, you'll want one with a touch of stretch, to help ease the closeness in the thighs.
The Relaxed Fit – This is one of the roomiest pair of jeans available. They offer a loose fit from waist to the leg opening, meaning a fuller leg and seat. However, it shouldn't be confused with the baggy fit, as it is less-loose. It is the denim cut for all body types, and it looks fabulous with almost every upper body garment and footwear. For the best look, the relaxed fit should be worn at or just below your natural waist.
The Boot Cut Jean – This is a classic that never goes out of style. The bootcut jeans have been around for a very long time, specifically since the 1970s and is still cherished by many men today. Also, it still fashionable in this era and can seat perfectly over your favourite pair of high boots. Bootcut jean fit snug through the thigh to the knee and flare out slightly below the knee.
The Rise
The rise is measurement or distance from the crotch seam to the top of the waistband. Rises in men's jeans include:
High Rise jeans are worn above the belly button and are best for plus-sized or bigger guys. Never tuck your shirt in when wearing high rise denim.
Medium or mid-rise jeans are perfect for men who like to tuck their shirts into their pants. Here, the waistband sits just below the belly button.
Low rise jeans are worn further down the belly button. They give the wearer a casual fit and a more relaxed appearance.
The Best Type of Jeans For Your Body Type
Men with slender body builds should opt for straight leg jeans with low rise as they don't draw attention to their undefined legs. Straight leg jeans are also suitable for athletic men, and so are slim fit and boot cut jeans. If you are a frequent visitor of the squat rack at the gym, then you might want to stay away from straight leg cuts. A regular or relaxed fit with a wider leg is what you need. For men with wider hips – typical soccer player body – the relaxed fit jeans and straight leg jeans with a high rise is recommended.
Conclusion
Gone are the days when most men paid little attention to their looks and left fashion-forwardness for the women. Today, most men go out of their comfort zones to look good, stylish, presentable and trendy. Jeans are crucial to achieving these fashion goals. They are comfortable, fashionable and work well with most upper body outfits and footwear. Also, jeans are for everyone, regardless of body build.