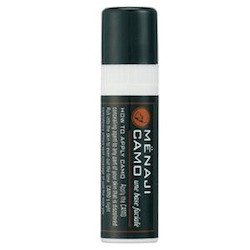 Menaji is a makeup and skin care line started for men by a professional makeup artist who was continually getting requests from male clients about an at-home routine. The line is "geared specifically towards men to cover up blemishes, dark circles, or scratches that are undetectable and easy to use," according to their website. The line takes a health approach to skin care and makeup, only using natural ingredients. Menaji sells concealer, powder, lip balm, and an "eraser" that helps to cover dark circles.
If you're considering makeup, definitely take some time to research proper application. Unless you're going for Johnny Depp's eyeliner (which is difficult to pull off), any makeup you apply to your face should be purely correctional and virtually invisible.
ALSO: Should a Man Ever Get a Spa Facial?