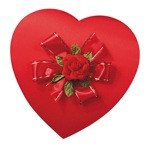 It's that time of year again: flowers, chocolates, jewelry and stuffed animals. When it comes down to Valentines Day gifts for women, we're pretty easy to shop for. But what about the special dude in your life? Check out this guide to the best Valentines Day gifts for men and show your man some love. Not only will he appreciate it but he'll also be on his best behavior for the weeks to come.
Who says that Tiffany's is just for girls? Men love sparkly and shiny things just as much as women do, and Tiffany & Co has an extensive line of men's jewelry and accessories. Some of our favorite items (which also make the best Valentines Day gifts for men) include the Tiffany & Co business card case in sterling silver ($350, and if you're feeling extra generous you can have his initials engraved on to the case), the Tiffany & Co hinged money clip in sterling silver ($225, a great gift if your boyfriend is a bartender or waiter and needs something to hold all those hefty tips), and the super swanky Tiffany 1837 concave circle cuff links ($275, the perfect accessory for the corporate man).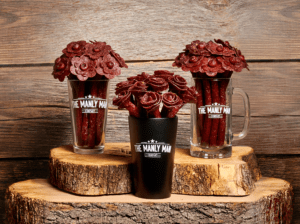 If you are interested in unique, curated gifts for men this Valentine's Day, the Manly Man Co. website is a must visit site! They have everything from beef jerky flowers and bacon roses to manly scented gift wrapping paper and an array of gift boxes!
If your man is more of the outdoorsy and adventurous type, you may want to consider giving him the REI Kingdom 6 Tent ($439), perfect for his overnight adventures. Or you could throw him together a gift basket with the ultimate necessities that would make Bear Grylls jealous: GSI Outdoors Stainless-Steel Flask and Funnel Set ($19.95), Nikon Monarch 3 8 x 42 Waterproof Binoculars ($265) and the Julbo Vermont Classic Glacier Glasses ($120), which look like something straight out of an Indian Jones flick. Definitely another one of the best Valentines Day gifts for men.
Last but not least, when in doubt go for cologne. This is a gift that will benefit both of you because your man will smell amazing and you'll obviously get to reap the benefits of that one. Some of the best scents that make the ladies go wild include Tom Ford Noir ($90), an oriental fragrance that is sophisticated and sensual; Michael Kors Eau de Toilette ($62), a spicy and luxurious scent; and if you really love him, the Clive Christian No. 1 Men's Pure Perfume Spray ($865), named among the world's most expensive fragrances (but with good reason. Want to find out? Guess you'll have to buy it first).
For more cool gift ideas, check out The Best Gadgets for Men.