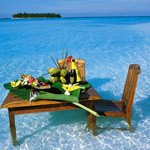 After working for The Man for months on end, it's nice to take a break away from your surroundings for a few days. Unfortunately, vacation destinations are not always as affordable and conducive to our bank accounts as we would like. There are many cheap vacation spots that can turn a small budget into a great adventure.
ALSO: Big Dumb Roadside Attractions People Apparently Care About
One of the top beach destinations is Carmel, California. Rooms go for anywhere between $300-$500 nightly during the peak summer season, while dining and entertainment can be just as expensive. Instead of taking out a second mortgage for Carmel, why not give Cannon Beach, Oregon, a try? Located less than two hours from Portland, the "Carmel of Oregon" fits most budgets with the same type of amenities but at a fraction of the cost. The Sitka Spruce forests contain trees that are as large as any in the country, and Haystack Rock is a sight unlike any other. Rooms during the busy season are around $100 per night, and there is plenty of fresh seafood and beaches to comb for a cheap getaway.
ALSO: Detroit To Erect The Most Awesome Statue Ever
Once considered a destination for the wealthy and glamorous, Las Vegas now caters as one of the cheap vacation spots. With rooms up and down the Las Vegas Strip for as low as $70 per night, there is plenty of gambling and affordable dining for every taste. Perhaps you should take in a show as visitors often given deals on discount tickets