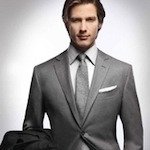 So you are ready to kick your career up to the next step but need some advice on your image? Professional attire for men can improve any guy's reputation.
The way you dress is going to reflect a lot about you. Dressing in a professional manner will suggest you know how to handle yourself in high-power situations and that you can work on the same level as the power players in your industry. Look around at the people at the top: As a man, are you dressing in the professional attire necessary to put you in their circle?

ALSO: How to Pick Out a Blazer
Professional attire is going to cost some money, but it doesn't have to break the bank. Truly professional attire means buying high-quality pieces and suits instead of simply choosing a lot of them. In most professions, you will need at least a couple of suits so that you can avoid wearing the same clothes every day. Buy one or two good black suits, and then, if you can afford them, a blue and a gray one. Pay the extra money to get them fitted or tailored to ensure you look your best.
You also will want to buy good, wrinkle-free dress shirts so that you can travel and work long hours without looking like a wrinkly mess. Buy ties that are not distracting and make a statement about your level of commitment. Colors are okay, but stick with solids or professional patterns. Dress sweaters can make a nice change from tie-and-shirt combos. Keep these suggestions in mind, and you will not go wrong in your professional attire for men.