Gant Rugger New Haven Chambray ($115)
The cool thing about this shirt is that it could look totally professional under, say, a brown blazer (see below), or it could look totally badass smeared with grease while you're working on something in your garage (not that we recommend doing that with a shirt this nice). It's patterned after photos of Ivy League eggheads from the early 1960s, who actually had shockingly solid looks.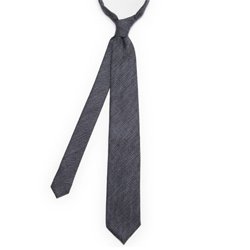 Personality Milano Scozia Tie ($110)
On one hand, this isn't an uber-hip "skinny" tie that could put off a conservative boss. On the other hand, it's not a thick tie that'll make you look like you're an '80s executive hunting for cocaine and/or running from Robocop. In other words, it's a tie you can wear anywhere. Plus the subtle white and navy dot print is subtle enough to complement pretty much any shirt.
Bonobos Manchester Blazer ($248)
Every guy needs at least one solid, versatile blazer. One that's properly fitted — that means not too billowy and not too long, with sleeves that hit your wrists such that the cuffs of your shirt poke out — has one or two buttons, and is either grey or brown so that it goes with just about anything. This 100 percent Italian cotton blazer meets all of those requirements, and the fact that it's corduroy will help set you apart in a universally pleasing, leading-man-in-a-Wes-Anderson-film way.