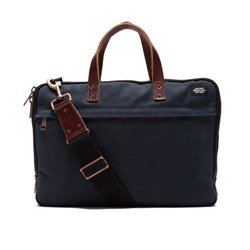 Jack Spade Slim Brief Bag ($325)
A step up from most messenger bags without drifting into grandpa's-briefcase territory, this 18 oz. bag is versatile enough to go just about anywhere with you. It's made primarily of waxed nylon, which means it's waterproof, offering great protection for important work documents or your most treasured comic books. Thanks to leather straps and studs made out of antique copper, it looks great. And at 16″ wide by 12″ tall, it's large enough to fit most laptops.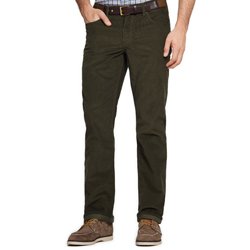 Bonobos Power Cords ($98)
Corduroys get a bad rap. Many people think they're either too dorky, too casual, or just too plain ugly to wear. That may have been the case years ago, but not now. These hand-cut Power cords are fitted, which both makes them look professional and gives you the kind of profile women notice. Plus, they make you stand out from the crowd of khakis.
Berge Brown First Base Belt ($100)
There are several things we really like about this 100 percent Italian suede belt. For starters, its amusingly semi-dirty name. Also, the green stitching and sides, which subtly set it apart from other pant holders. And lastly, the fact that it comes with a sizing chart for how to order it based on your waist size. The only thing worse than a too-big belt flapping around is the heartbreak of trying on a belt and not being able to get it around your waist.
Bonobos Gunsmokes ($98)
What happens when traditional jeans aren't an option in the office, but formal suit pants are too formal? Khakis happen, that's what. And while there's nothing wrong with the occasional pair of well-fitted khakis, it's nice to stand out. Which is why we like the Gunsmokes. You can wear the slate-grey bull denim pants with just about any shirt in your closet, and the slightly stretchy material will remind you of the worn-in blue jeans you typically live in.