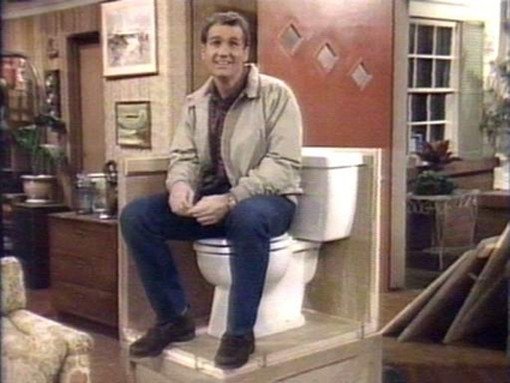 Simple Bathroom Upgrades For Guys
You don't need to hang Study Hard posters or repaint your bathroom walls camouflage to upgrade your bathroom experience. Turns out, it's actually cheap and easy to do. For only $50 you can take care of three important things: invite better "evacuations," leave the room smelling better for those who follow you on taco night, and prevent the need to stock up on Shout. Here's all you need …
#1. Get Yourself A Squatty Potty

Your toilet posture, uh, stinks. And that's because you're most likely sitting — not squatting — on your throne. The Squatty Potty ($25 @ Amazon.com) foot stool elevates your feet and opens your colon up to help provide "full eliminations." The Squatty Potty is just a molded piece of plastic, but you'll worship it like gold after a few uses. It can help relieve constipation, bloating, hemorrhoids, and IBS.
Best of all, it's made in the USA! So every time you use it you can think about how all the non-squatter throughout the world can eat … well, you know. There's probably a better way to phrase that …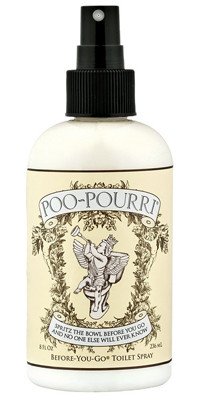 #2. Spray Some Poo-Pourri Into The Bowl

When you're home alone who cares if you blow up the bathroom. But if you have company, roommates, or a date coming by and you can't hold it in, you'll be happy you had Poo-Pourri ($10 @ Amazon.com) on hand. It's all-natural and far less obvious than post-bathroom sprays, which only draw attention to the fact that you just evacuated your bowels.
Also: How To Make Your Armpits Smell Better, Naturally
Available in a handful of scents, including lemongrass, berries, and peaches, you give five or so sprays into the bowl before you go and the oils trap unpleasant smells. A two-ounce bottle provides up to 10o uses.
NEXT: BOOKS AND WIPES