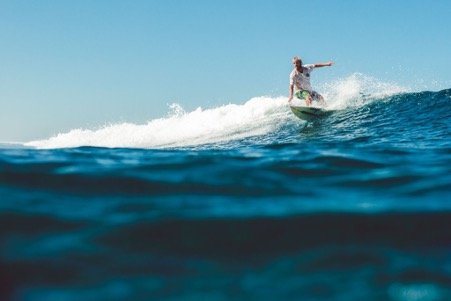 For many, people surfing is one of those activities that they've never tried but have on their bucket list. But if you dream of surfing some waves, don't let your dreams die in a drawer! It's easy to start surfing, in fact, you only need a few pieces of equipment to get started! Start your adventure into learning how to surf the right way by making sure that you have the necessary equipment to get started. Here is our mini guide to all the equipment you'll need to hit your first waves!
If you're worried about the price tag of some of these items, why not try shopping with a coupon code? Shopping with an online coupon or promo code is a great way to get the items you want without having to pay a fortune. There are many online websites that specialize in providing their customers with free coupons codes to use. Using the Schuh discount code, you can find save on all your surfing related purchases!
Now on to our list!
Surfboard
It's obvious that if a person wants to start surfing, they're going to need a surfboard. But what kind of surfboard should a beginner invest in? There are a rich variety of different surfboards available on the market and some are more suitable for beginners than others.
When choosing a beginner board, the bigger the better! Most people will be tempted to want to jump to a smaller board right away but that's a mistake. If you choose a wider surfboard not only will you catch on to the fundamental mechanics quicker, but you'll also catch a lot more waves at the beginning of your training.
In terms of what type of surfboard to buy, consider investing in a soft-top. These newcomers to the industry are cheaper, safer and more durable than traditional epoxy or PU boards.
Wetsuit
It's important to inform yourself of the conditions of the water you'll be surfing in so that you know what the appropriate type of wetsuit to buy is. It's important to choose the right type of wetsuit as making a wrong choice can lead to an unpleasant experience in the water.
The basic rule of thumb is: the colder the water you'll be swimming is, the thicker your wetsuit will have to be. Sizing is another important factor and it's important to remember that there is no universal sizing when it comes to wetsuits.
Sunglasses
Remember, it's important to keep your eyes protected from the sun even when you're on the water. The harmful UV rays from the sun can reflect off surfaces like the water and cause damage to your eyes. In order to ensure you're fully protected, invest in a quality pair of sunglasses that offer 100% UVA / UVB protection.
Leash
You don't want to lose that new surfboard you just bought, so make sure you invest in a surfboard leash before hitting your first waves. When purchasing a leash, you should always get one that's at least 1ft longer than the board you're using. This is for safety reasons. As a beginner you'll be falling down a lot and the extra length gives your board time to get away from you in the water so that you don't crash into it.
Surf Wax
If you opted for an UP or epoxy surfboard, then you'll need to invest in some wax. Surf wax is used to give your board more grip while you're out on the water. The number one thing to consider when buying surf wax is to know the temperature of the water you'll be surfing in. There are different types of surf wax available on the market and they are all created to withstand certain temperatures, so make sure you buy the right kind for your local water.