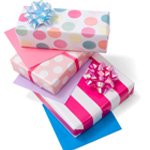 Buying gifts for women is one thing, but buying gifts for your male friends and family members is another thing. Though guys will usually let each other off the hook with a straightforward gift certificate, you'll find that it can mean a lot when you want to go the extra mile.
ALSO: Would You Buy A Bike Made Totally From Recycled Parts?
Consider gadgets. Most guys love gadgets. Anything that can make it easier to read their email, text a friend or play Angry Birds is a good thing. When you are looking for the best birthday gifts for men, start thinking about new gadgets for their home or their person.
When you are looking for the best birthday gifts for men, remember that you should consider what it might mean to spend some time together. If you know when they have the day off, consider things like game tickets, a kayaking trip or some free time at the paintball range.
ALSO: Her Birthday: A Survival Guide
Food is always a good choice when you are buying gifts for the guys. If the guy really likes meat, consider a visit to the local organic farm. Meat really does taste better if it comes from animals that aren't stressed all the time, and he'll notice the difference right away.
If your friend enjoys fine wine, give them a gift basket of the best wine, along with some decadent snacks, and personalized wine-related gear. Customize the gift basket to cater to your friend's taste.
At the end of the day, buying a gift for your buddy is like buying a gift for anyone else. Think about what he likes, think about what will make him grin and go from there. It really is that easy to find the best birthday gifts for men, so just relax and consider your options.