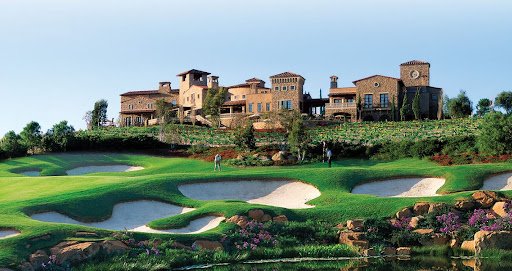 Rancho Santa Fe is a residential area and part of the San Diego metropolitan area. The High-end designated place has several very notable residents, including Bill Gates, basketball star Kahwi Leonard, professional golfer Phil Mickelson, Actor Bill Murray, and it's also a vacation home for Tiger Woods and Arnold Schwarzenegger.
Rancho Santa Fe is a hilly area with Eucalyptus and orchards. The community is close to the ocean and a short drive to San Diego. The estimates say more than 40% of residents live here part-time, and most estates are luxurious and spacious, often gated communities.
If you're planning a Californian road trip, you will need travel authorization. ESTA Visa is the easiest way to get a permit, and it's for people in VWP. ESTA is a straightforward online application. It will take up to 72 hours to get the answer, and you will then have two years to exploit the ESTA. After that, you must declare your ESTA criminal record and from last year your social media accounts. You probably shouldn't apply for ESTA if you have a conviction sentence.
Once in California, Rancho Santa Fe is the perfect place to see how the American dream looks for the residents.
Rancho Santa Fe things to do
The Covenant is the planned community in Rancho, and it includes something resembling a downtown commercial district. You can find shopping for high-income people, numerous fine dining spots, and galleries in the small town centre.
The community also has several golf clubs like Rancho Santa Fe Golf club, Del Mar Country Club, The Bridges, etc. In addition, Rancho Santa Fe can be a hub for exploring numerous attractions in the area like San Diego, beaches, and others.
Close to the residential estates of Rancho Santa Fe, the area with scattered luxurious homes, you can find the famous Del Mar City Beach. Miles of white sand, palm trees, and ocean are perfect for sunbathing, surfing, and experienced swimmers. Both Sea Grove and Power House beaches make one bigger seaside recreational space where locals flock for leisure time and water activities.
Another excellent relaxation area is Meditation Gardens. Incredible gardens offer a variety of plant species, spiritual centers, and astonishing ocean views.
Rancho Santa Fe Park
If you're looking for absolutely the best views in the area, Double Peak Park can offer a great viewpoint to Mt. Laguna, and you can see downtown San Diego and even Catalina Island. In addition, it's an excellent location for sunset.
Fletcher Cove Park is located at Solana Beach, a beautifully decorated area perfect for family time at the ocean.
The closest park to Rancho Santa Fe is Del Mar, based in San Dieguito County Park. You can find 5 miles of hiking trails, a volleyball and basketball court, and a baseball field. In addition, there are numerous picnic areas, BBQs, and pavilions.
Best restaurants in Rancho Santa Fe
One thing Rancho Santa Fe is not missing is high-end restaurants. Mille Fleurs is among the best-rated places to eat in the area. It offers French and Vegetarian cuisine, great desserts like crème Brulee, ice cream, and profiteroles. There is an excellent selection of wines, and Mille Fleurs has Michelin stars so that you will get excellent service and food.
Pony Room American is a more traditional but equally quality New American restaurant with a wide selection of seafood, pizza, and steaks to other conventional meals. More than a decent wine cart, great cocktails, and a cosy atmosphere make Pony Room a popular dining choice.
Rancho Valencia hosts significant events and serves as a popular restaurant with American cuisine. A wide variety of salads, Californian prawns and mussels, and a vast selection of meats and vegetarian meals in a lovely ambient make Rancho Valencia a great choice with reasonable prices. You can also get prime tequila and other great drinks.
Thyme In the Ranch serves breakfast, lunch, and brunch with numerous vegetarian and vegan options. American cuisine, numerous soups, and a rich, varied menu created an excellent reputation among guests on social media.
Before you start packing the bags, make sure you apply for ESTA Visa on time. Once you get approval, you can book flight tickets and accommodation. With ESTA, you will get an unlimited number of visits to the US in the next two years, and the maximum stay in one go is 90 days.
Bottom line
Visiting Rancho Santa Fe might seem odd because most areas don't have streetlights and pedestrian parts. However, massive estates on the hills of the North County are home to some of the most influential people from sports, show business, and politics. It's also a place with fine dining spots, art galleries, and nearby gorgeous beaches.