Ever had to think about baseball or the news during sex just to prevent premature ejaculation?
Don't worry—premature ejaculation (PE) is a big worry for the average man, 39 percent of them to be exact. The fact is, women do last longer than men during sexual intercourse, so a little help to last longer is commonly in order.
Could something like benzocaine wipes help you with climax control? Which wipes are better for premature ejaculation? We've got you covered with all the answers below.
What are premature ejaculation wipes?
Premature ejaculation wipes are disposable wipes that men can use to help them last longer in bed. The wipes are pre-loaded with an anesthetic solution that numbs certain parts of the penis before sex.
While the bulk of wipes designed to help slow ejaculation are made with benzocaine, some wipes may contain other ingredients.
Using a wipe with anesthetics like benzocaine for premature ejaculation can be preferable because you can specifically target the most sensitive parts of the penis.
How do delay wipes work to slow ejaculation?
Premature ejaculation wipes work by delivering a desensitizing agent in the wipe to the many nerve endings in the penis that are responsible for sexual sensitivity levels.
Premature ejaculation occurs when the nerve signals sent from the penis to the brain happen in such a rapid-fire way that a man finds it hard to control the imminent climax.
The sensation of stimulating these nerves during sexual activity or penetration can be so intense that men have a hard time holding back.
The nerve endings in the penis can be targeted by using a topical solution, like benzocaine, on the skin. When the nerves are more relaxed signals that play a huge role in orgasm and ejaculation slow down.
With sensitivity levels lowered, most men find they can hold off for longer before ejaculation. In fact, some of the best products offer such a significant improvement in ejaculation time that men diagnosed with PE don't need any further medical treatment.
How do you use PE wipes to slow ejaculation?
Men who have symptoms of PE love the fact that delay wipes are so easy to use. Unlike sprays, creams, or lotions with numbing agents, wipes are more discreet and tidy.
While the directions for use can vary depending on the topical product used, most wipes involve a simple three-step process:
Open the package
Rub the wipe under the head(frenulum) and certain parts of the shaft of the penis
Wait for 5-10 minutes for the moisture to absorb through the skin before sex with a partner
What are the best premature ejaculation wipes?
So, which premature ejaculation wipes are actually the best?
To determine which wipes were actually the top options to delay ejaculation, we looked at several attributes, including the ingredients, whether the product has been reviewed positively by users, and the price.
1. Promescent Delay Wipes
Promescent Delay Wipes are a top pick among men who deal with premature ejaculation, and it's for good reasons.
These benzocaine wipes are made with a seven percent benzocaine solution, which is a substantial amount more than any other brand on the market. Therefore, the anesthetic effects on the penis can be more profound and longer-lasting.
Promescent benzocaine wipes have been reported to do a good job of making the most sensitive spots of the penis numb without causing numbness in other areas. This can be attributed to the Targetzone™ Technology Promescent uses to create the formula. The anesthetic solution absorbs into the skin of the penis quickly without requiring a long wait time.
Likewise, when used properly, the numbness created by the benzocaine is not likely to transfer to a partner, even during oral sex.
Pros
Contains 75% more benzocaine than other benzocaine wipes (7%)
Made with Targetzone™ Technology to keep specific areas desensitized
100% satisfaction guarantee
Effects last up to 45 minutes
Fully absorbs in as little as 5 to 10 minutes
Reviewed by prior users a significant number of times with positive feedback
Can be used even during oral sex as long as you wipe away residue left on your penis beforehand
Cons
Slightly more costly; available through a subscription for less than $3 each or as a one-time purchase for $3.99 each
A formal peer-reviewed research study for Promescent benzocaine wipes is in progress
2. Roman Swipes
Besides Promescent, Roman Swipes are one of the most well-known benzocaine wipes.
One of the most noteworthy points of Roman Swipes benzocaine wipes is the formula used has undergone formal research in a randomized, placebo-controlled study led by Doctor Shabsigh and other medical urology experts.
The Roman benzocaine wipes formula was found to be effective at helping men with premature ejaculation in a medical review.
Time to ejaculation during vaginal intercourse was upped by an average of nearly two minutes in the treatment group after one month of use. By contrast, the control group was given a placebo and only reported an average enhancement time to ejaculation of fewer than two minutes. Two months of use brought even more improvement.
Roman Swipes do have limited reviews, save for those who don't like having to get a subscription just to buy the product from the manufacturer.
Pros
The formula has been examined in clinical research and proven effective for delaying ejaculation
Not shown to cause undesirable side effects
Only involves a 5-minute wait time for sex after applying the solution to the penis
Cons
Contains only topical 4% benzocaine for numbing
Roman Swipes are only available through a monthly subscription
One of the more costly options at close to $3 each
3. Doc Johnson STA-ERECT Wipes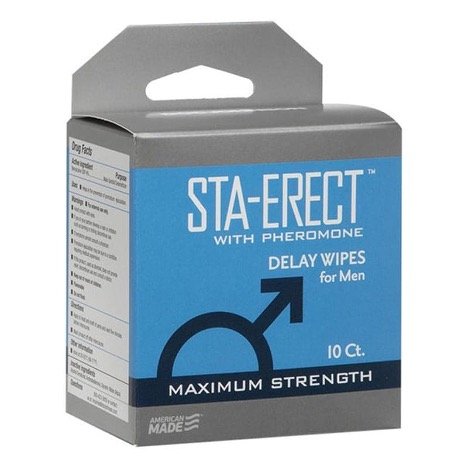 Doc Johnson STA-ERECT Wipes are a unique take on delay ejaculation wipes because they contain an added pheromone that is said to enhance sexual desire.
Each wipe is made with 4 percent benzocaine, which has been shown to be an effective numbing agent for the penis and to help with premature ejaculation.
The "pheromone" in STA-ERECT products is actually androstadienone, which is said to have a pheromone-like activity that can be quite potent for humans.
These particular benzocaine wipes do seem to have good reviews from previous users, and the price point is fair for the product.
Pros
Short wait time after application on the skin (5 minutes)
Good price point at $2 to $3 each
Added pheromone to enhance desire
Cons
Contains only topical 4% benzocaine for numbing
Not heavily reviewed by previous users for firsthand information
4. OptiMALE So-Long Wipes
OptiMALE wipes contain a 4% benzocaine solution much like Roman Swipes and some other sensitivity-lowering topical products.
The wipes are individually wrapped, and they are said to be unscented. However, some reviewers claim the benzocaine wipes don't work that well for premature ejaculation and have a strong smell, while other reviewers reported positive impressions.
The biggest advantage of these benzocaine wipes is the price; they are significantly cheaper than Roman Swipes, which are also made with the same amount of benzocaine.
Pros
Cheap (around $2 each)
Made by a recognizable brand in the USA
Cons
Made with only 4% benzocaine
May have a strong smell
Mixed reviews on the efficacy
5. VigRX Delay Wipes
VigRX Delay Wipes are a natural alternative to wipes that contain benzocaine or lidocaine, as they are made with certain herbs said to promote numbness.
The primary ingredients of these wipes are zanthoxylum oil, which is said to have a numbing effect, and peony extract, which is supposed to encourage blood flow.
The reviews for VigRX brand wipes are quite mixed. Some men reported that these wipes worked well for them, while other men reported in their review that they felt no difference in sensation at all.
The biggest downfall of the wipes is they have to be used at least 30 minutes before sex just to get the product into your skin and working. This is a substantial wait time when sex is in process, and there are no guidelines on whether the product can be passed to your partner during sex even with the wait time.
Pros
All-natural formula
Relatively inexpensive at around $3 each
Cons
Must be applied 30 minutes before sex
Not clinically tested
Natural ingredients may be more likely to cause side effects
May be more likely to transfer to a partner
Numbing effects are more likely to vary from person to person
What if ejaculation-slowing wipes don't work?
If you go through the list and find that no wipe seems to help you with premature ejaculation, it may be worth it to try a spray with lidocaine instead of benzocaine.
Some men find that topical lidocaine spray gives them a more profound level of sensitivity reduction than benzocaine. While both are well-known sensitivity-reducing agents used in many medical situations, lidocaine can be more intense.
If you still don't see a difference in your ability to control ejaculation, it may be worth it to seek medical advice from your doctor. PE can be a multifaceted sexual health issue, so treatments may also have to be multifaceted.
Takeaways About Premature Ejaculation Wipes
Problems with premature ejaculation can definitely get in the way of satisfying intercourse with your partner, but so many promising over-the-counter products offer some hope.
While there are a number of options—from sprays to pills—some are obviously more convenient than others to help you last longer during sex. Wipes are the perfect example.
Premature ejaculation wipes work for men who need just a little less penis sensation during intercourse so they don't lose it so quickly.
The effects of delay wipes are especially noteworthy with those products made with anesthetics like benzocaine—a well-regarded numbing drug with very few known side effects or safety concerns.
Maybe most men are never going to make the ladies-locker-room news for marathon-length sex—that's OK.
In reality, most men really only need a few extra minutes to please their partners. You can absolutely skip the distress of being a short-comer with the right wipes to numb some of those nerves that push you to climax too quickly.