Planning meals for a large family can become tricky sometimes. Read the article to know the easiest low-cost recipes that will be mouthwatering, as well as freshen up your dinners.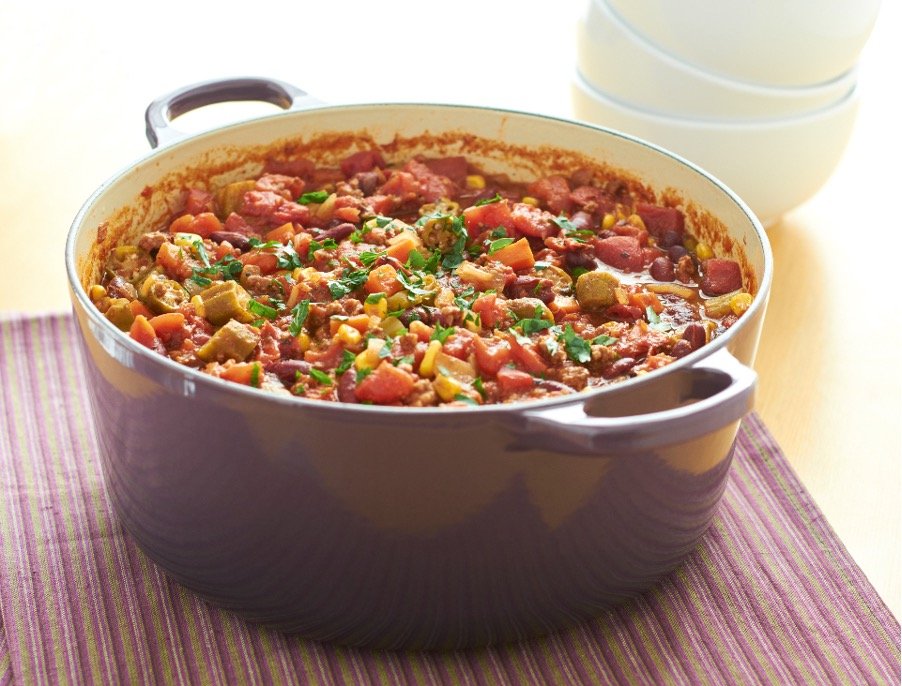 Eating together with family is always an enjoyable event. If the family is a large one the mealtime might feel like a celebration too. A celebration can only be celebrated with delicious meals. But, when your budget is little, planning a meal for your large family can become difficult sometimes. If you are looking for some easy budget meals, go through the discussion below to discover the top 5 flavorful recipes that you and your family might like to go with.
1. Vegetable Curry
Give your family a vegetable treat with this special and nutritious dish. The ingredients you will need are peeled, deseeded, and diced butternut squash, diced potato and eggplant, tikka masala paste, tomato paste, vegetable oil, coconut milk, sliced red peppers, diced courgettes, coriander sprigs, and rice, naan, or beer bread.
To start preparing, heat your oven to 200C or 180C fan or gas 6. Toss the vegetables with the curry paste and oil in a large roasting pan. Season and then roast for 30 mins. Fry the onions to make the sauce. When they are golden, stir in the remaining curry paste.
After cooking for 3 minutes, add the coconut milk, passata, and 100ml water and simmer. Dip the vegetables into the sauce with the courgettes and peppers once they are roasted. After 10-15 mins of simmering, add coriander and serve with rice, naan, or beer bread. If you love beer bread the most and want it homemade, check out How to Make Beer Bread online for the easiest recipe.
2. Chili Marrakech
When your family is a fan of spicy, aromatic dishes like tagine, keep this on your menu. This one-pot dish will become an instant favorite for you and your family. The main ingredient is minced lean lamb, or you can use beef also as an alternative to preparing this meal.
The other ingredients you might need are cumin seed, olive oil, halved and thinly sliced onions, finely chopped ginger as well as garlic cloves, chopped tomatoes, paprika, ground cinnamon, ground coriander, harissa, deseeded red peppers that are cut into large chunks, chickpeas, drained and chopped coriander, keep some coriander leaves aside to serve with beef or lamb stock.
Heat your largest non-stick pan and toast the cumin seed for a few seconds and remove, add oil to the pan, and fry the onions for 5 mins, add the mince, garlic, and ginger. Stir and when the ingredients are no longer pink, add toasted cumin, tomatoes, remaining spices, and harissa. Then add the stock as well as the chickpeas, peppers, and chopped coriander. Stir occasionally. After 40 minutes, when the sauce is slightly thick, remove the pan from heat and cool. Your dish is now ready to serve with the remaining chopped coriander.
3. Vegan Cauliflower Tacos With Crispy Chickpeas
To prepare the tacos, you will need olive oil, lime juice, chili powder, ground cumin, smoked paprika, garlic powder, onion powder, salt, freshly ground black pepper, drained chickpeas, jalapeño, avocado, and cauliflower cut into small florets. For the Chipotle Lime Crema, arrange regular sour cream or vegan sour cream, vegan mayonnaise, chipotle peppers in adobo sauce, garlic clove, olive oil, lime juice, and salt.
First, preheat your oven to 400 F. Whisk together the lime juice, olive oil, and the spices mentioned above in a medium-sized bowl. Add and toss the chickpeas and cauliflower florets to coat them completely. Spread them on a sheet pan and bake for 15 minutes.
Meanwhile, prepare your chipotle crema. Blend the ingredients together until they are completely smooth. Serve your dish by topping the tortillas with chickpeas and cauliflower, slaw, crema, jalapeño, and avocado to enjoy. You can add this flavorful meal to your dinner party also, to add variation to your menu.
4. Black Bean and Rice Salad
To prepare this easy and delicious dish, you will need black beans, long-grain rice, green and red bell pepper, tomato, green onions, extra virgin olive oil, lime juice, Dijon mustard, sugar, cumin, black pepper, and parsley or cilantro.
Take a serving bowl and combine the cold cooked rice, chopped tomato, chopped green onion, green and red bell peppers with the black beans. Take another bowl to whisk together the cumin, pepper, sugar, Dijon mustard, lime juice, and olive oil.
Add the dressing mix to the rice and beans. Blend the ingredients by stirring gently. Garnish with fresh chopped cilantro or parsley. Cover and refrigerate your dish until thoroughly chilled. Toss and serve with some side dishes to enjoy your delicious mealtime.
5. Ground Beef Enchilada Casserole
You will need ingredients like lean ground beef, chopped onion, salt, freshly ground black pepper, chili powder, cumin, chopped, pitted black olives, tomato sauce, chili peppers, chopped, flour tortillas, grated cheddar jack or Mexican blend cheese, and water to prepare this mouthwatering dish.
First, preheat your oven to 400 F. Take a large skillet and cook ground beef and onion in it. When the beef is browned, drain well and stir in the chili powder, cumin, salt, pepper, chili peppers, olives, and tomato sauce. After it's boiled, remove it from the heat.
Alternate layers of lightly buttered tortillas, the meat mixture, and shredded cheese in a round casserole. Top it with sprinkled cheese. Add water, then cover with foil or a lid. Bake for 25-30 minutes. To serve with an appealing look, garnish with chopped green onions, ripe olive slices, and fresh chopped tomatoes. Now, it's time to enjoy it!
Mealtime is a fun time. And, to add more crispness to it, variation in the menu is necessary. Try new items now and then to put a smile on the face of your family. Go with the recipes above to surprise your beloved ones with some tasty treats and enjoy a flavorful mealtime!