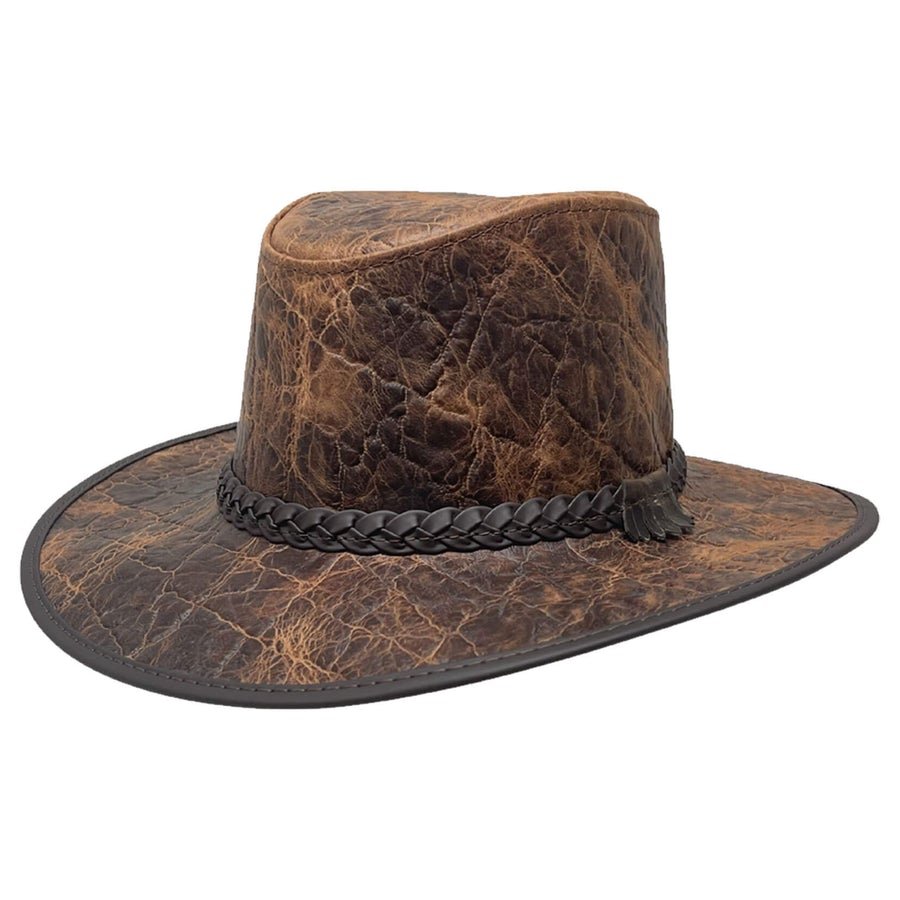 Are you looking for a hat that is perfect for both styling and sun protection? If yes, wide-brim hats are the best solution. Any hat with a brim that measures at least 3 inches is a wide brim hat that comes in handy in sunny weather. But, it can be a little difficult to style the mens wide brim hats. Unlike the regular baseball hats or flat caps that are simple to style with an unobstructed size, the wide brim hat needs a little more care in styling.
The 2 or 3 inches wide brim of the hat has a slight bent upwards or downwards. It has a fixed crown that has an indented centre crease with a pinch on both sides. Historically, these hats were made out of wool and paper. But now, it's made from durable material for protection against the weather. It's mostly made from materials like straw, canvas, leather, or other synthetic blends.
If you are looking to buy one for yourself, then we have listed the top 6 mens wide brim hats for better sun protection:-
(1). Limited edition leather outback hat- How about a hat with a timeless rustic feel? The limited-edition leather outback hat is a strong, durable, and good-looking hat. It's made with versatile leather and a floppy design. Also, it gives the perfect cowboy look to men.
(2). Men's midnight Rider bravo hat- If you are looking for a leather hat with a modern look then go for the Men's Midnight Rider bravo hat. This 100% leader hat is handcrafted that is perfect for adventure and outdoor activities.
(3). Men's breeze sun hat- The Men's breeze sun hat gets its name from ventilating Mesh panels. It is a sun-blocking hat that allows ventilation making the hat perfect for outdoor activities in warm weather. It is a comfortable and lightweight hat.
(4). Tan Mesh Sun hat- A Tan Mesh Sun hat is made from quality material and darker colour fabric that absorbs more UV rays. The hat can be perfect to style with formals for special occasions and celebrations in summer.
(5). Men's Athens straw sun hat- Looking for some classic? The Men's Athens straw sun hat is available in light creams and the dark brown vintage colour is the perfect match for unique outfits. The hat is made from 100% natural straw for more durability.
(6). Men's Cabana Mesh sun hat- Heavy hats can be uncomfortable to wear. If you want a lightweight hat then go for the Men's Cabana Mesh sun hat. It's made with the best quality durable material with a laminated wide brim.
These are some of the best mens wide brim hats Whenever you purchase mens wide brim hats, be careful to buy a hat proportionate with your face shape and body frame. Sometimes, a right hat might also look uncomfortable. These rugged and polished hats for men have a slightly shorter profile than safari hats. Their brim is a little turned up at the sides, like a western hat.
These versatile hats are limitless when it comes to styling. Some other wide brim hats also come with buckles and bows. Most of them come in shades of brown, beige, and black. The hat has been popular among the art and music community. Celebrities like Humphrey Bogart and Frank Sinatra, Michael Jackson, Britney Spears, and Justin Timberlake have worn hats with a similar style.
Gradually, hats are becoming a staple accessory once again around the globe. It's taking us back to the time when men in America did not leave their homes without wearing a hat. These wide-brim hats were popular in the 1920s to early 1950s. Do become a part of this trend and buy yourself a wide brim hat to slay among the crowd, the next team to wear it!