Guys don't put much thought into their underwear until they feel them jammed up their cracks or there's a serious possibility of getting laid and someone (read: a woman) might see, touch, or catch a whiff of them. And whether you go with briefs, boxers, man thongs (hey, we're not judging), or boxer briefs, you'll want to pick up undies that are comfy and have some style to them in case someone (read: a woman) should get an eyeful of the goods.
Boxer briefs — which traditionally cover between half and about one-third of your thigh — are a solid pick for everyday wear. Unlike boxers, they'll hug your nuts and keep things down there in place. Of course, leave yourself a little bit of room. Get them too snug and you'll be digging fabric out of your crotch after every few steps. You can also get granular with the type of style
Remember, if you're a guy who sweats profusely, lean toward natural fabrics if possible; they breathe better than synthetics. The downside to going with something like cotton is that the moisture may accumulate and leave you with swamp ass. Those are the breaks. However,  synthetic fabrics can trap in stank. If you want to scare a woman off there's few better ways to do so than to sport a rank-smelling crotch.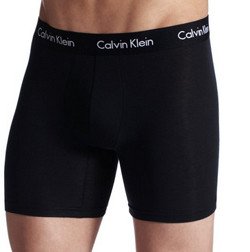 #1. Soft, smooth, and a pouch front that keeps your goods from spilling out at inopportune moments — like when a hungry zipper comes lurking, Calvin Klein Men's Micro Modal Boxer Brief ($23-$28 @ Amazon.com) are a blend of 90 percent modal and 10 percent lycra elastane. That modal component is key because it's been shown to be 50 percent more water-absorbent than cotton and resist shrinkage. Ample colors are available. Sadly, none will make your package look larger. We tried 'em all.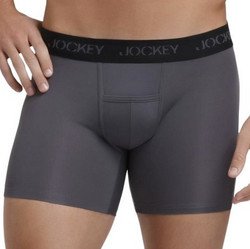 #2. The lightweight microfiber fabric of the Jockey Men's Microfiber Performance Boxer Briefs ($24 for 2 pack @ Amazon.com) wick away moisture to keep SWASS and, uh, ball sweat — we couldn't think of a cool word for that — to a minimum. You can reserve these for workouts since they don't ride up too bad, but if you sweat like Patrick Ewing on a muggy day even when it's winter, consider sporting a pair just to reduce the moisture down there. Take our advice and we're sure you'll thanks us, but it's your girlfriend who will be the true winner if you catch our drift.
#3. Maybe you have beanpoles for legs or have breakouts on your thighs (hey, it happens). If that's the case or you're simply more comfortable with more coverage, try Tommy Hilfiger Men's 4 Pack Boxer Briefs ($30 for 4 pack @ Amazon.com) . They'll fall below the thigh and are on par with standard boxer shorts. Still, they're 100 percent cotton so they're as soft and comfy as they are long. And yes, we know that last line taken out of context could be very vulgar.
#4. We're totally sure Michael Jordan would have worn Hanes even if the company didn't offer him millions of dollars to simply say he wore them … anyway, the Hanes Men's Classics 5-Pack Boxer Brief ($18 for 5 pairs @ Amazon.com) offers five comfy pairs for under $20. They're 100 percent cotton, an elastic flex waistband, and smooth flat-seamed leg cuffs. Even better, there are lots of colorways available so you can expand outside of the classic grey and black. We don't have to remind you why you should skip out on white undies, do we?
#5. It's hard not to think sports when you see Under Armour's — we blame those horrible goddamn "We will protect this house!" commercials — but the Under Armour Boxerjock ($20 @ Amazon.com) have anti-odor technology, easy-stretch fabric, and HeatGear to sop up moisture. That makes them a solid pick to wear to work, the gym, or a date. Your skin won't be as irritated and you'll chafe less.


Keep Reading, Won't You? Up Next: The Best Natural Deodorants For Men
You stink. But if you're worried about the potentially harmful ingredients in some products, the best natural deodorants for men are a fresh alternative.