By looks alone the Carhartt Northman Jacket ($180 @ carhartt.com) might look like a puffy coat that would be cumbersome and potentially annoying to move around in. But as we've found out one too many times at 3 a.m. after an elegant evening of boozing hard, looks can be deceiving.
The Northman's four-way-stretch nylon Cordura provides a snug but-not-too-snug fit, while the 3M Thinsulate featherless insulation keeps you toasty on blustery fall days or when Old Man Winter cranks up the air conditioning. Additionally, the jacket is suited with a rain defender water-repellent finish and a detachable hood that snaps on or off in seconds. To prevent unwanted drafts, simply adjust the sleeve cuffs for a tighter fit around your wrists.
And if the whole "it'll keep you toasty" thing makes you worried that you'll pit out, there's no need for alarm. The underarm openings were engineered to keep air circulating, so although the elements will be kept at bay, wearing your Northman won't exacerbate your proclivity to pour sweat from your armpits.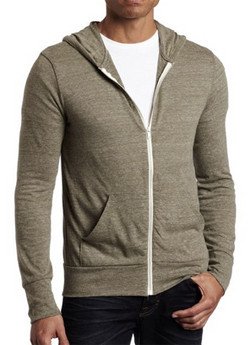 More Winter Gear:  The Best Hoodie Sweatshirts For Men 
While some heavy-duty hoodies are reserved for warmth against the elements, some hooded sweatshirts are built for style as well as function.