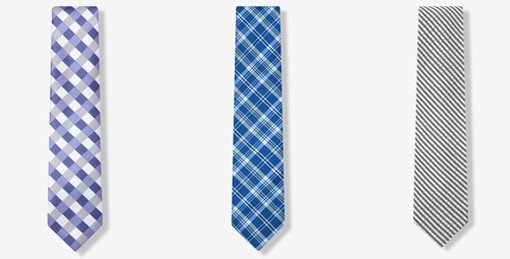 Jacob Sigala, Social Media Manager at ties.com has probably forgotten more about ties than we'll ever know. So he's a perfect source to teach us which ones look good and which ones don't. We're sick of trusting our wives, girlfriends, and mothers.
1) What are the different types of ties I have to choose from?
It comes down to 4 basic types: the standard length necktie, extra long tie, knit tie, and skinny tie. The difference between the standard and skinny ties is their width. Skinny ties are under 3″ wide, while standard neckties are 3″ wide and up. Extra long ties are built for the man that is 6′, and tend to be around 67″ in length as opposed to the standard 58″ length. Knit ties have a unique, sweater-like knit composition. They are square tipped, unlined and give seasonal flair to a look.

Also: Finally A No-Holes Belt That Isn't Terrible
2) How should my body type influence my decision regarding which tie to wear?
The general rule is the wider your body, the wider the tie. A broad-chested guy probably shouldn't wear anything smaller than 3 inches. Otherwise, the tie gets lost on the shirt and the look can become unbalanced. Likewise, we recommend that a slimmer guy wear ties that are 3 inches or less so the tie doesn't take over the shirt. If you are above 6 feet tall, you should definitely consider an extra long tie. Following these guidelines, the tie-to-body ratio will look more proportional and keep you looking your best.
3) How far above my belt line should my tie sit once it's on?
The tie tip should be at or right below the top of the belt. If the tie is an inch above or below this line, we suggest tying it again. Anything above or below this sweet spot may look awkward and prove to be inconvenient. Usually, a good place to start when tying a tie is to position the narrower end of the tie just below the 4th button on your shirt and adjust accordingly.
4) What part of my outfit does my tie most need to match? Shoes? Belt? Shirt?
The tie should ideally be coordinated with your entire look, but at the very least, your shirt. As a general rule for beginners: solid ties look good paired with patterned shirts, and patterned ties look good paired with solid shirts.

Also: Show 'Swass' Who's Boss With These Shorts
5) What sort or lining should I look for in a good tie?
Most well-crafted ties will be lined with brushed wool. It will usually be mixed with polyester to make it more durable and longer lasting. The weights of these linings vary, but you ideally would like to select one that achieves a good medium: if it's too light, the tie won't maintain shape and if it's too heavy, tying a decent knot can be difficult.