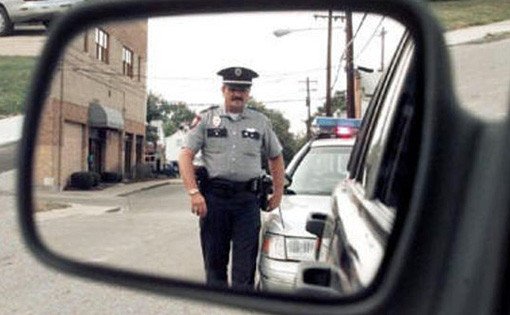 #5. REMEMBER YOU'RE NOT ON "LAW & ORDER"
Using words or phrases you picked up watching courtroom dramas on TV, or attempting to turn the tables on the cops, won't work in your favor. Ever. "I was doing a 'pack to pack,' where we drive up behind a group of speeding vehicles and look for the most aggressive one that's pulling ahead of the pack," Officer Jamie recalls. "I pulled over a lady who said that I had to have been speeding to catch up with her, and that she was making a citizen's arrest on me. I told her to take it up with the judge." Now, we don't have law degrees, but we will say this: That woman is a fucking idiot.
#6. KEEP YOUR MONEY INSIDE YOUR WALLET
Trying to bribe an officer can lead to your arrest — but not all cops are quite that harsh. "I've had people hand me a money clip with their license attached, or hand me their entire wallets," Officer Jamie says. "I just tell them to take their license out. The only time I was offered money was on a DWI. I just ignored it. He was in enough trouble already." If a cop is caught taking bribes, he could face jail time, be fired, and lose his pension. Whatever you're offering isn't going to cover that.



Next: Come Clean