For guys with cold feet …
#3.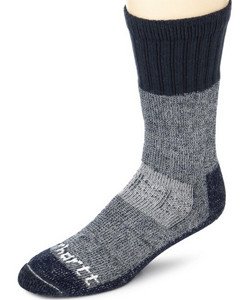 Carhartt Men's Extremes Cold Weather Boot Sock ($13 @ Amazon.com)
A heavyweight sock with a reinforced heel and anti-odor treatment, these boot-length foot huggers from Carhartt are only 17 percent wool. That means they're a good option in spring and fall, but if you're in need of a sock that'll withstand frigid temps, you're better off with the these …


#4.
Mens Merino Wool Sock ($25 @ Amazon.com)
These toe cuddlers are made of 71 percent Merino wool, 21 percent nylon, 7 percent poly, and 1 percent spandex. Read: they'll keep your toes and feet toasty when the weather turns Hoth. This four pack from People Socks comes with two pairs of charcoal, and one pair of navy and brown. Even more comforting, they are made in the USA.