For gym rats …
#5. adidas Men's Superlite CC 3-Pack Low Cut Sock ($12 @ Amazon.com)
Odor-resistant and armed with ClimaCool technology — that's a fancy for "these socks are ventilated" — these adidas socks were engineered to keep your feet comfy and dry. Great for gym rats and guys who are active. And no, that doesn't include playing e-sports on your Xbox One.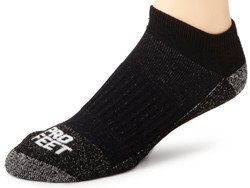 #6. Pro Feet Funky Performance Odor Control Multi Sport Over Low Cut Socks ($10-$12 @ Amazon.com)
These are made of 82 percent polypropylene, 13 percent nylon, 3 percent x-static silver fiber (whatever the hell that is), and 2 percent lycra. Why do you care about that? Because that combo makes them wick up moisture while also allowing them to subdue paint-peeling foot odor.