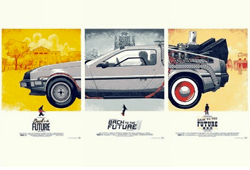 #3. Back to the Future 1 2 3 poster 40 inch x 24 inch / 21 inch x 13 inch ($12 @ Amazon.com)
Get a poster showing the DeLorean as we see it in in all three Back to the Future films. This 40" x 24" poster is made of a smooth cloth material, and the artist did the car justiceby paying close attention to detail. The results: a badass piece of wall art that won't turn women away. The same can't be said for that crass Study Hard poster you currently have up.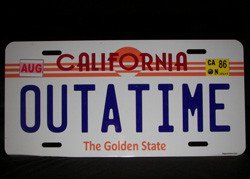 #4. OUTATIME / Back To The Future Replica License Plate – All ALUMINUM 6″ x 12″ ($12 @ Amazon.com)
Will an OUTATIME save your car from getting towed if you drive like a maniac and cut off terrorists who drive VW vans and possess bazookas and machine guns that jam at inopportune times? Probably not.
However, an OUTATIME plate will get you laid! Okay … it won't. Still, the aluminum plate — 6" x 12" — is cool and even comes with a Marty McFly driver license. It probably won't get you a beer at Cafe '80s, but you can get a Pepsi or a chocolate milk. It's a great decorative piece for a garage, media room, or boring office cubicle.


Next: Marty Jr.'s Cap