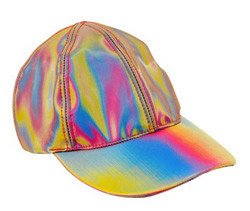 #5. Back to the Future: Part II: Marty McFly Cap Replica ($25 @ Amazon.com)
Marty Jr.'s crazy color-changing cap that would be worn by teens in 2015 is not all the rage with the kids. Actually, it's ugly as hell. But anyone with appreciation for the film will know where the ugly cap comes from if you do have the balls to wear it. Pop this lid on your dome and the iridescent cap shimmers. Fits all size melons and has a Velcro closure.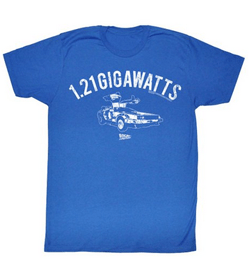 #6. Back To The Future T-Shirt ($20 @ Amazon.com)
Tis cool and comfy tee It's got the classic image of the DeLorean and 1.21 gigawatts. People on the street notice and love it – who isn't a BTTF fan?
#7. DeLorean Wall Decal (21 @ Amazon.com)
You can also put the license right on this DeLorean wall decal. The image of the DeLorean is head on, so it looks like it's driving right through the wall! The 60 cm high-gloss vinyl sticker is mess-free and available in many colors.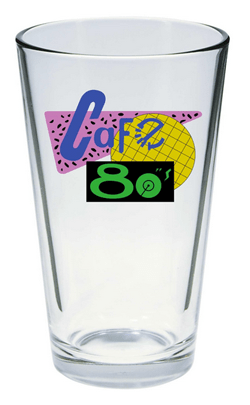 #8. Cafe 80s ($11 @ Amazon.com)
Why isn't there a Cafe '80s franchise yet? It's long overdue. Until some fat cat wants to pony up the cash to get it off of the ground, you can drink up with a Cafe 80s pint glass. It's like the next best thing to visiting the cafe and running into Griff and his goon squad.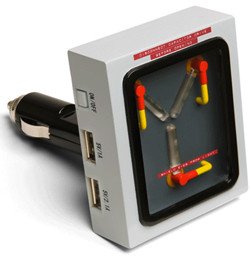 #9. Flux Capacitor USB Car Charger ($25 @ ThinkGeek.com)
Plug this Flux Capacitor into your 12-volt adapter and charge up your devices — including another USB-powered Flux Capacitor! The best part is, you don't need to reach 88 mph to active it. All you need to do to use this dual-charging device is plug it in and flip the switch. It even lights up when you've reached 1.21 gigawatts.