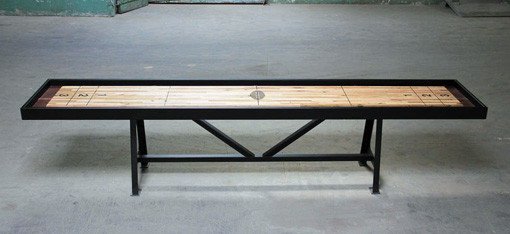 You're probably used to playing shuffleboard on mangled barroom tables that have been roughed up by spilled drinks and idiots who heave the pucks like bowling balls. Also, those idiots probably happen to be your drinking buddies. Well, one look at this custom-built shuffleboard table from District MFG ($5,200), and they'll know better than to treat it with the same type of disrespect. (Just kidding, they'll still eff it up.) Each handmade shuffleboard table is built with reclaimed oak, 8 oz. dyed leather, and a sturdy steel frame. Weights, powder, and wax are all included, and you have your pick of a 12- or 14-ft. table.
Also: 5 Portable (And Affordable) Beer Pong Tables
We know the table isn't cheap and that the metal perimeter makes having sex on it extremely unlikely, but you're not perfect either! Plus, we can't think of any other piece of furniture that'll compliment your Ping-Pong and beer pong tables nearly so well.