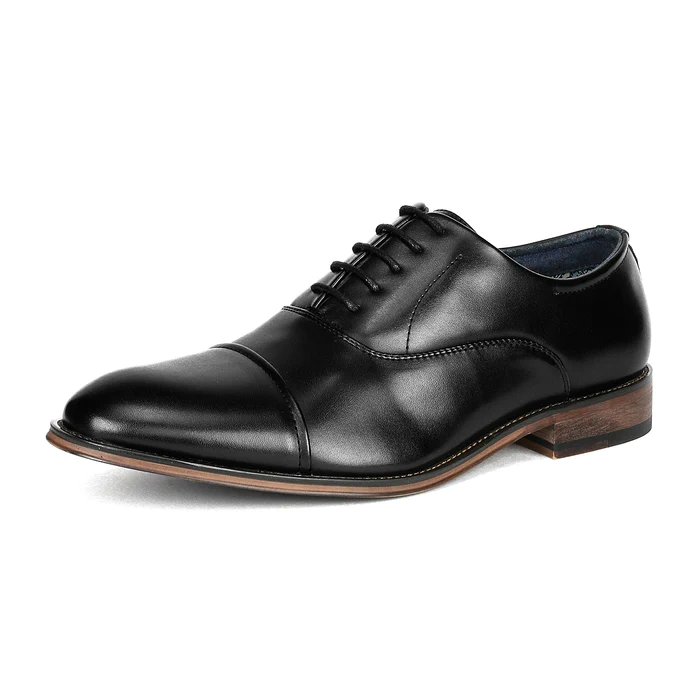 Men may not have a wide range of clothing as compared to women. But one section they can pride themselves in is the footwear section. Footwear is an essential aspect of a man's life. It speaks about who you are and what you are like in person. This is especially true for college students, who tend to explore more in life. Proper footwear can take you a long way in life. With most footwear looking almost the same, it can be very difficult to pick the right pair for the occasion. So here is a list of shoes that I think are the best option for a college student:
LACE-UP TUXEDO OXFORD SHOES:
A black lace-up tuxedo oxford is a must-have for any college student. It is your best friend for all those formal nights and goes perfectly with your tux. With the lace-up design, you need not have to worry about laces getting untied. And with the quality leather of the oxfords, you can be guaranteed to have the comfort and the gentleman look that you've always wanted.
Now, if you want to buy an Oxford other than the standard black color or would like a completely different style of Oxford shoes, look into Bruno Marc Shoes. They have one of the top-quality Oxford Shoes out on the market right now. Get your pair now and dance your night away with style and class.
MOCCASINS DRIVING LOAFERS:
Some men like jeans, some don't. If you are like me who prefers cotton pants over jeans, loafers are your best bet. Moccasins driving loafers can be matched either with formal or casual pants. When it comes to style and quality, these loafers are unbeatable. With a higher range of flexibility and being lightweight, you can be at peace with the amount of comfort it offers.
SUEDE LEATHER CHELSEA ANKLE BOOTS:
Time has passed and we are at a stage where ankle boots are not just for women. You heard me right. The footwear industry has found a way to provide the most classiest boots from the women's section to men without having to look feminine.
Men's Chelsea boots are your best option if you are someone who is fond of jeans and tend to wear them a lot. Even though jeans can be matched with other footwear out there, nothing comes closer to a jean and ankle boots. They give you a fashion-forward look that is worth every penny.
EVERYDAY BREATHABLE WALKING SNEAKERS:
Here comes sneakers, by far the most loved footwear by mankind, across all genders. Sneakers can be worn with almost any casual wear. Be it jeans, pants, or even shorts, you can wear your sneakers without having to worry about looking bad. Unlike other footwear mentioned in this article, sneakers give you an instant elevated look and style. They make you look so young and stylish that you just can't stop wearing them. These shoes have been my go-to for the mentioned reason. The breathable sneakers make sure you have enough airflow into your shoes to give you a sweat-free and comfortable experience.
CASUAL OXFORD DRESS SNEAKERS:
Oxfords can sometimes feel too formal and may not be the right choice for casual everyday wear. On the other hand, sneakers can feel like sports or workout shoes. If you feel this way, the oxford dress sneakers are the one for you. As the name says, they are a perfect blend between the oxford shoes and sneakers, giving you an almost semi-casual look.
With the right mixture of oxford and sneakers, if done right, you can wear them pretty much with any college outfit.
PENNY LOAFERS:
Penny loafers have been a rising trend ever since the 1930s. Penny loafers were named so because they had a small opening that could hold a penny in them to be used in coin booths back in the day.
These shoes are a classic must-have for any man. They can be paired perfectly with raw denim or black jeans with a matching t-shirt. A black penny loafer is a great alternative for tuxedo shoes.
LIGHTWEIGHT SLIDE SANDALS:
Lightweight Slide Sandals are an ideal choice for shorts and shirts. But this doesn't mean you shouldn't wear them with jeans/pants. With the ability to wear/remove them effortlessly, you will instantly love the comfort it offers. Since only some parts of your feet are covered, these sandals provide enough airflow. Hence, can be a great summer companion.
CHUKKA BOOTS:
Chukka boots offer nothing but style. If you want the most stylish looks possible, get yourself a chukka. They are usually made of high-quality leather or suede uppers and a leather or rubber sole, giving you the look that you crave. Unlike other shoes, the chukkas are all-season boots, hence they are a wardrobe staple for men.
LACE-UP COMBAT BOOTS:
The combat boots provide a vintage look. Even though the name doesn't suggest so, these boots can help you stand out when using them as a college student. A brown combat boot goes perfectly with either blue or black jeans. They provide extra protection for your feet without compromising on the looks, style, and quality.
CONCLUSION:
The above-mentioned are just a fraction of all the available options out there. Now that you have an idea of what to wear, and what your preference might be, have a look at Bruno Marc Shoes. They have a large collection in the men's footwear section and you will be surprised with the uniqueness they offer with each shoe type. For maximum comfort and quality, make sure you choose the right shoe size and look into the material used to make the product.