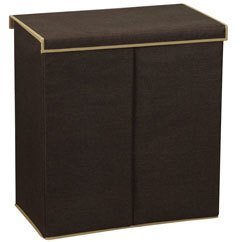 #5. Household Essentials Double Hamper Laundry Sorter ($25 @ Amazon.com)
It's a moisture-resistant double hamper — it has two sections for white or darks, towels and clothes, his and her stuff, etc. — that can hold up to four loads of laundry. Stash it in a closet if you have room, or keep it in plain sight in your bedroom or bathroom. Whichever you choose, it'll look far better than enormous piles of dirty undies and shirts on your floor.


#6. Hoover Linx Cordless Stick Vacuum Cleaner ($190 @ Amazon.com)
It's imperative to have a badass vacuum, but you also don't need a huge behemoth that eats up real estate. This lithium-ion battery-powered stick vacuum is powerful enough to clean any space and small enough to go into spots like walls, staircases and corners. If you need something for those easy cleaning jobs, this is it.