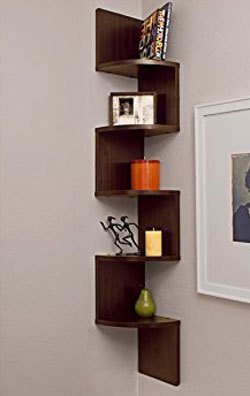 #3. Large Corner Shelf ($40 @ Amazon.com)
Great for displaying photos or candles — those are an easy way to spruce up the aesthetics as well as make your pad smell more pleasant than dirty socks. It's easy to hang and requires all but no assembly. Basically, you screw it into the wall and you're set.
Also: Simple Ways To Upgrade Your Bathroom Experience

#4. URC R40 "My Favorite Remote Control" ($97 @ Amazon.com)
Having four or five remotes is difficult to juggle and annoying to keep tabs on. This remote control can operate anything from TVs to DVD/Blu-Ray players, DVRs or all of them at once using a touchscreen. It's useful when you need to operate your DVR and TV simultaneously, or if you just hate dealing with trying to remember which remote operates which device.