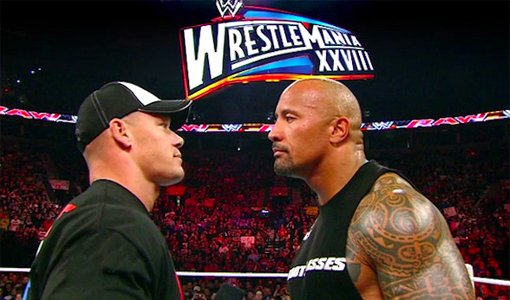 From Donald Trump to Mike Tyson to Snoop Dogg, World Wrestling Entertainment always features at least one non-wrestling celebrity to grace its annual WrestleMania pay-per-view extravaganza. This year that celeb happens to be WWE alumnus turned actor, Dwayne "The Rock" Johnson.
And while we're happy The Rock is returning to take on John Cena at WrestleMania XXVIII this Sunday in Miami, we hope he's not the only old WWE persona resurrected for the event. What about the forgotten wrestlers? Guys who A) paid their dues but never received a final bow, or B) made cameos that were so bad they were good, or C) had no actual talent but entertained us nonetheless. Guys like …
1. SHOCKMASTER
Dressed in a glittery Stormtrooper helmet (obviously), Shockmaster was supposed to make an impressive debut by bursting through a wall when he was introduced. Thing was, nobody told the wall it was supposed to break. So Shockmaster got tripped up, took a spill, and ruined the entire segment. You didn't hear much from Shockmaster after that, until more than a decade later when WWE recreated the scene in a "comedy" bit for TV.
2. "JUMPING" JEFF FARMER
Before there was the "Boom goes the dynamite!" kid, there was "Jumping" Jeff Farmer. We can't pinpoint exactly why Farmer's wrestling career never took off  — it probably had something to do with the fact that he trembled like a frightened bunny when he was on camera — but we'd love to see him given another chance at WrestleMania. 
3. P.N. NEWS
The early '90s were plagued with over-the-top WWE gimmicks — Bastion Booger, Mantaur, Dr. Isaac Yankem, Gobbledy Gooker — but P.N. News's garish attire, Rubenesque physique, and amazing battle-rap skills made him one of the more memorable characters. As goofy as he was (and probably still is unless he's succumbed to congestive heart failure), a throwback match with him would be infinitely more entertaining than one with current guys like Hornswoggle and Drew McIntyre.