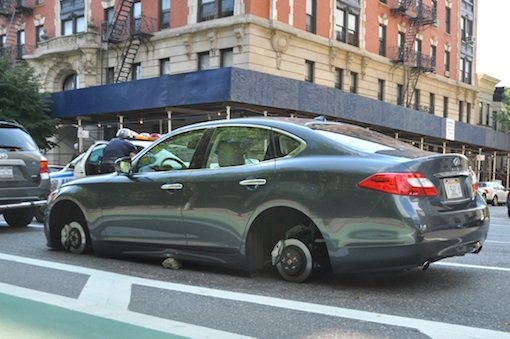 My girlfriend and I are walking the block and a half from our Brooklyn, NY apartment to the 2011 Infiniti M56 that I'm test-driving. The game plan for the afternoon is pretty simple: hit up Home Depot for a food processor. Not my favorite way to spend a Saturday, but since she does most of the cooking, the foray will pay dividends. Delicious, pesto-flavored dividends.
I scan the street for the Infiniti while we discuss the relative merits of buying a basic food processor versus splurging on the stainless-steel Cuisinart. I spot the sedan from about 100 yards away, its arched fenders glinting in the merciless summer sun. Thing is, that glint is lower to the ground than it should be.
"No f*cking way," I say, mostly to myself.
"What's wrong?" my girlfriend asks.
But I'm already halfway down the block, sprinting. "Someone stole the wheels!"