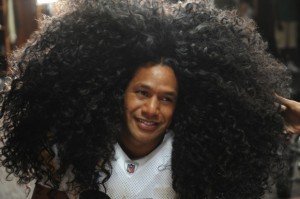 When Pittsburgh Steeler safety Troy Polamalu's hair was insured by Head & Shoulders for $1,000,000, those luxuriant locks joined Mariah Carey's legs, Jeff Beck's fingers, and Dolly Parton's boobs amongst the list of celebrity body parts with their own insurance policies.
Now, you may ask: What kind of accident would utterly destroy Polamalu's coif while leaving the rest of him intact and able to collect on his insurance policy? That's easy — he may one day pass out drunk at a bar full of well-equipped barbers who are Cleveland Browns fans. The point is, that hair makes him millions, so you can't blame him for being careful.
Polamalu isn't the only athlete or celebrity who has one specific body part that helps pay his rent—and many of them have left their precious assets severely underinsured. These are a few celeb body parts in dire need of protection.