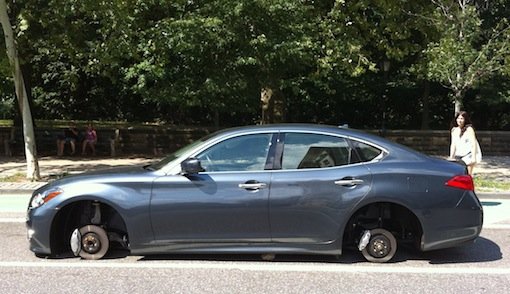 When I reach the wheelless car, its brake rotors are resting on the asphalt, with one rock under each side sill. The lug nuts sit in tidy piles by each axle, left behind by the thieves (thanks, guys!). When the cops arrive, they aren't surprised; turns out Nissans — Nissan owns Infiniti — and Nissan Maximas in particular, are popular targets of local wheel snatchers because the company doesn't equip its cars with wheel locks.
(Other fun facts I learn from the nice policeman as passersby literally point and laugh at me: The culprits are usually a tow-truck driver and three buddies who work with pit-crew precision and speed. They also like rain, since there aren't many people out on the streets. A thunderstorm had hit the night the wheels were swiped.)
Of course, you shouldn't let this heartbreaking incident stop you from buying the Infiniti M56. The car is stunning outside, luxurious inside, and capable of racking up points on your license like a pinball game. With a $57,550 base price, it's cheaper than the V-8-powered BMW 545.
Just remember to swing by Pep Boys for a $20 set of wheel locks on your way home from the dealership.