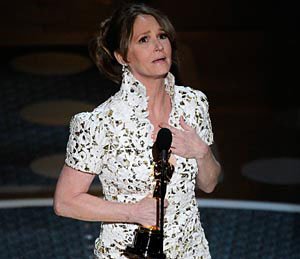 Melissa Leo was really excited to win the Oscar for Best Supporting Actress for her role in The Fighter — so excited that she let an F-bomb slip live on the air during her speech.
"When I watched Kate two years ago," she said referencing Kate Winslet's Best Actress win, "it just looked so f*cking easy." Whoops! (Actually, we have zero doubt she had it planned all along in the hopes that people would talk about her every time the Oscars is on.)
Every single one of the 41 million people who saw her do it have used that word — or its foreign-language equivalent — but for some reason the FCC still gets its censorship panties in a bunch when someone says it on network TV. Well, we're all for pissing off people who still care about something so meaningless, so we wanted to celebrate F-word utterances on live TV over the years. Join us, won't you?

WNBC-TV news anchor Sue Simmons is a broadcasting veteran and has no patience for stupid rookie mistakes. She hates them so much, in fact, that they make her make stupid effing rookie mistakes.


Shaquille O'Neal stands 7′ 1″ tall and weights 325 pounds. If he's pissed off and wants to lace into the refs for doing a lousy job, he's going to do it — even if it costs him an effing one-game suspension and a $295,000 fine.


Michael Lohan has plenty to curse about — he wears mesh shirts, his daughter Lindsay is facing jail time, and his son, Michael Lohan Jr., is so ashamed of his pop he's changing his name. So July, he let his effing frustrations out in an interview with Fox News.


You never want to play effing chicken with Emmy-winning broadcaster Ernie Anastos.


Some reporters weren't just meant to rough it in the field. For instance, this dude, who unleashes a stream of expletives after swallowing an effing bug.


Albany, New York is in for some very strange effing weather, according to this guy's forecast.


Cat Deeley, hostess of the UK's So You Think You Can Dance, knows how to make a live audience simmer down. She screams at them like they're effing toddlers.


We're assuming Joan Rivers doesn't get invited to Russell Crowe's mansion during the effing holidays.