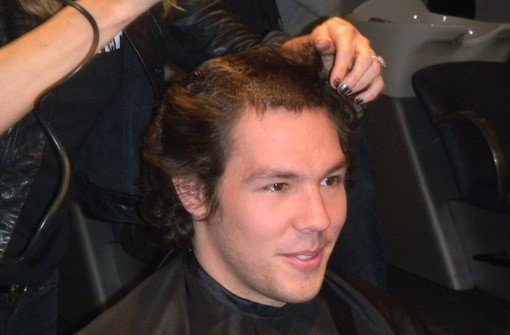 Last year, rookie quarterback Sam Bradford led the St. Louis Rams to a remarkable 7-9 record. Remarkable because it was more wins than the team had in the previous three years combined.
On the way, he set NFL rookie records for most pass attempts, most pass completions, and most pass attempts without an interception. And today, to the surprise of pretty much no one, Bradford was named the NFL Offensive Rookie Player of the Year.
So we decided to ask the former University of Oklahoma Sooner a few questions whilst we basked in the glow of his success one recent snowy day in New York City. He was there getting his shaggy mop of hair buzzed during an event sponsored by AXE haircare products. Which reminds us: Tom Brady, you may want to avert your eyes ….
You're here getting your hair buzzed, but there are an awful lot of long-hairs in football right now — two of the most famous [Troy Polamalu and Clay Matthews] are even playing in the Super Bowl. Why the hell would a football player keep his hair so long?
I can't really talk for other guys, but I wouldn't want my hair that long. It would just be an extra thing for defenders to use against me.
Your stylist told us that the, uh, "girls in your life" like your hair short. Is that so?
No doubt — all the girls back home were excited. Most were excited that I was working with a grooming company because someone was finally helping me out.
You won the Heismann as a sophomore, were the first overall pick in the NFL draft last year, and were named the NFL Offensive Rookie Player of the Year. There must be crazy pressure to continue racking up the achievements.
I don't think it's any pressure at all. I never set out the year to win individual awards. I approach the year as, our first goal is to win the NFC West, then get to the Super Bowl, then win it. We all, as a team, have to have those goals. Of course I set personal goals each year for myself. But the No. 1 goal each week is the team's success.
If those are your goals, then what do you and the Rams have to do to attain them?
Personally, I want to improve a lot of things. I can be better out, reading defenses, putting our offense in better situations. I hope Josh [McDaniels, the Rams' new offensive coordinator] feels comfortable putting more on my plate. As my understanding of the game continues to improve, we'll become much better.
Who's going to win the Super Bowl — the Packers or the Steelers?
I'm not going to say.
Fine. Will you be at the game?
No, not until we're in the game.
Do you at least have some advice for, say, Aaron Rodgers?
[laughs] Oh, Aaron definitely doesn't need advice from me.
St. Louis is often called the best baseball town in the country. Do you ever feel overshadowed by the Cards?
Not at all. They have a great tradition in St Louis. No matter what we do, people in St. Louis will still love the Cardinals. And hopefully no matter what the Cardinals do, people will still love the Rams.
Okay, but be honest: Do you get recognized more often in St. Louis, or back in Norman, Oklahoma?
Norman, definitely.