When it comes to finishing an outfit, we all know it's the tiny details that make the biggest impact. The accessories you wear can make your look stand out from the crowd for all the right reasons. The socks you wear can create many kinds of statements. So, whether you're heading to the office, going for a swanky meal, or want to inject a bit of fun and color into your outfit, here is the ultimate guide to sock fashion and how to make yours stand out.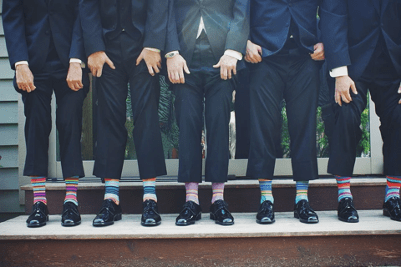 Go Plain
While you may think of plain socks as boring and common, if you want your outfit to do the talking, it's best to hold back on wearing socks that are too striking and bold. Choosing a pair of black or gray socks will show that you mean business, especially if you're meeting clients or heading for a posh meal. For men who do want to add a subtle burst of color, a pair of crimson red is the best option.
Complementary Colors
For your outfit to flow well, you may want to wear a pair of socks that match other colors that you're wearing. Socks should always complement and enhance your outfit, rather than clash or overpower. The best way to get this right is by knowing your colors and deciding on a color palette. If you have any doubts and are worried about making a fashion faux pas, it's best to stick with tonal.
Pick Patterns
Whether you're a lover of tartan, polka dots, or logo motifs, there are tons of pattern socks to choose from which can enhance your outfit. If you like to keep stick with what you know, you should opt for classic sock styles like stripes, argyles, and dots in grays, navy, and burgundy. For those who want to be a bit more daring with their look, skull patterns, logo patterns and scenes can add a hint of edginess and quirkiness to your look.
Choose Humor
As we currently find ourselves in unprecedented times due to the coronavirus pandemic, we could all do with something that raises a smile. So, wearing a pair of funny socks from Funatic can not only brighten your day but those you encounter. However, be careful with what you pick as there is a fine line between being humorous and offensive.
Dress for the Occasion
If you're going for a job interview, meeting a client for the first time, or going on a first date, you must wear socks that correlate with the occasion. The last thing you want is to turn up to a job interview wearing funny socks that don't impress employers.
Although they may not be the first accessory you think about, the socks you wear can say a lot about your personality and character. Known as a staple for any man's closet, a pair of well-fitting socks can be a great way to express yourself and create a subtle boldness. So, whether you want to be taken seriously or are going for a more casual, laid-back approach, the guide above can help you find the best socks for any occasion.