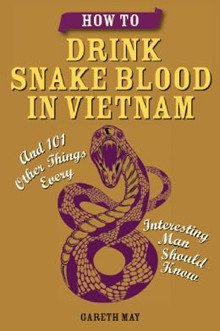 We're always trying to put ourselves in a position to help us seem smarter than we actually are. Why do you think we came up with our "Things Guys Should Know About …" series, where we gave CliffsNotes on topics like cigars, wine, beer, and cheese. And How to Drink Snake Blood in Vietnam: And 101 Other Things Every Interesting Man Should Know ($12 paperback / $10 Kindle @ Amazon.com) packs 251 pages full of cool, random info for your brain to gnaw on.
Also: Read This: 101 Places to Get F*cked Up Before You Die
It's not meant to be in-depth as a Frommer's travel guide; the book consists of 67 digestible write-ups that gloss over topics like the best red-light districts around the world, nude beach etiquette, and the international rules for waiting in lines. You know, all crucial information guys should have a grasp on.
Other cool chapters cover tips for smoking weed in Amsterdam, executing the perfect Japanese bow, how to wolf down disgusting-sounding edibles like fried tarantula, and ways to up your odds at at being rescued if your flight goes all Lost on you.
Also: Blame the munchies on your nose
You can get the Kindle edition for less than the paperback, but we find reading on the john is immeasurably more enjoyable when you're physically flipping through the pages. We're not sure why. Let's just chalk it up as one of life's little mysteries.