VACUUMS FOR GUYS WHO LIVE A TINY APARTMENT
You'll want a compact vacuum that has the power to keep your limited space free or dust and dirt. These two should do the trick …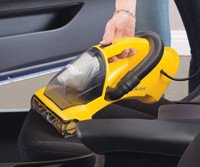 #4. Eureka Corded ($38 @ Amazon.com)
The 5.5-amp device has a stretch hose attachment for hard-to-reach spots like under the couch or stove, or if you want to suck the fries you dropped between the seats in your car. For larger jobs you can just run the Eureka's big-fat face over it. It's bagless, simple to clean and dump out, and super compact for easy storage.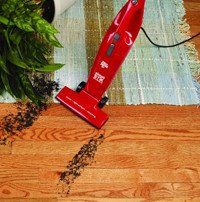 #5. Dirt Devil Simpli-Stik ($18 @ Amazon.com)
It's a 3-in-1 bagless vacuum that functions as a stick vac, handheld vac, and utility vac (meaning it detaches). Another bonus, it's lightweight. The downside: it's not super powerful. So while it's great for guys who live in small apartments, if you're in anything but a studio we'd suggest upgrading.