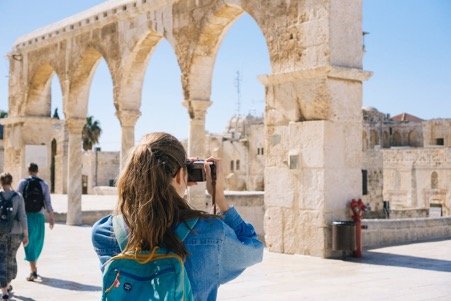 Do you love traveling and exploring the world? Almost everyone is fond of discovering new places, trying different cuisines, and experiencing unique cultures. After all, the change in atmosphere can be soothing and relaxing, while escaping the hustle-bustle of routine life can be a blessing in many forms. While some prefer trying adventurous things, others may choose to lay back and relax on a beach. Either way, you can make the most out of your vacation.
As a tourist, you can head over to theme parks, go scuba diving, or jump off a cliff to have some thrilling adventures. Similarly, you can swing by theatres for mind-blowing cinematic experiences of dance, drama, and art. In short, the travel destinations have plenty of entertaining and fun activities that you can savor during the trip. Have a look below at these six tips to make your vacation more entertaining.
1. Prepare & Plan for the Trip
Mostly all famous travel destinations are fully booked throughout the year, making it impossible to find a hotel room once you arrive. Therefore, make reservations and purchase tickets beforehand to have a smooth trip. You can also make a list of all necessities for your trip to ensure you don't forget to pack any supplies or medicines.
Try booking tickets for recreational activities beforehand. If you are going to Disney Land, buy tickets for all activities since they have limited space. Similarly, if you are heading to Tennessee, book your seats for shows in Pigeon Forge beforehand. These places also offer early-bird discounts on bookings, letting you save some bucks.
2. Travel with Friends
Many people think of traveling solo, but what's the fun in exploring the world without like-minded companions? Friends can make vacations more enjoyable and unforgettable, letting you cherish those memories forever. Likewise, they will push you out of the comfort zone, encouraging you to take risks and try new things in life. Also, there won't be anything such as 'dead time' when you travel with friends. Even a 36-hour long bus trip can be full of laughter, stories, drama, and entertainment. Thus, get in touch with your pals and start planning the most memorable vacation.
3. Explore New Cuisines
People who like experimenting with their food should always explore new cuisines and exotic restaurant chains. As every country specializes in a particular kind of food, find the most delectable food joints in your travel destination. It would open your taste buds to an entirely new range of authentic flavor profiles and food. For many people, trying different kinds of food can be the best part of traveling.
4. Hire A Private Tour Guide
As a tourist, you would always need someone to show you around because the print guides won't be enough. Hence, look for reputable private tour guides who can give extensive tours without costing a fortune. They would also be willing to customize the day for you according to your preferences. For instance, if you want to see the Athens Museum before lunch, they will plan the day consequently. Additionally, you will get a chance to learn about culture and people.
5. Try New Things
Undeniably, traveling teaches you things that you can never learn in books or classrooms. It opens your mind to new cultures, traditions, and, best of all, unique experiences. Thus, step out of your comfort zone and try new things. You can go rafting in a nearby river or give a shot snorkeling to witness breath-taking underwater life. Otherwise, if you want to do something thrilling, go swimming with sharks. Besides water activities, you can have a hot air balloon ride, skydive, or climb mountains. Also, you can head over to exciting theme parks for some fun rollercoaster adventure.
6. Take the Less-Traveled Path
Unplanned crowds can spoil a well-planned vacation in no time. You might spend three hours waiting in the queue for the museum and end up missing lunch or the afternoon show. To avoid this hassle, it is always best to travel during the off-season. The weather might not be optimal for traveling, but air travel prices and hotel accommodation may be pretty low. Best of all, you would get to see more tourist spots in less time and have a memorable trip. Besides this, consider buying skip-the-line tickets online to save time and make the most out of your trip.
Wrapping Up
Traveling can be pretty fun and exciting when you plan things the right way. Instead of worrying about things back home, you have to clear up your mind and focus on the trip. Similarly, indulge in activities that you enjoy and the ones that make you happy. It could be having a lobster roll, experiencing a thrilling rollercoaster ride, or chilling around with friends. You can also look for entertainment options such as theatre, shows, or drama to keep yourself entertained throughout the journey.