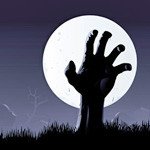 Halloween is here, and while not everyone in the ModernMan offices is excited about the holiday (It's awful. —Ed.) we still wanted to acknowledge it. So we worked with the folks who did the hilarious supercut video of Mr. Wizard being a jerk to kids in order to put together a supercut video of hands shooting up out of the ground.
Sure, it's got plenty of scary zombies — but there are also cowboys, pirates, and unhinged telekinetic high-school prom queens. Happy Halloween!



More Creepy Stuff … Halloween Cocktail Recipes That'll Scare YourSobriety
We found two Halloween-themed cocktail recipes and a spooky shot that we're planning to surprise our sobriety with this October.