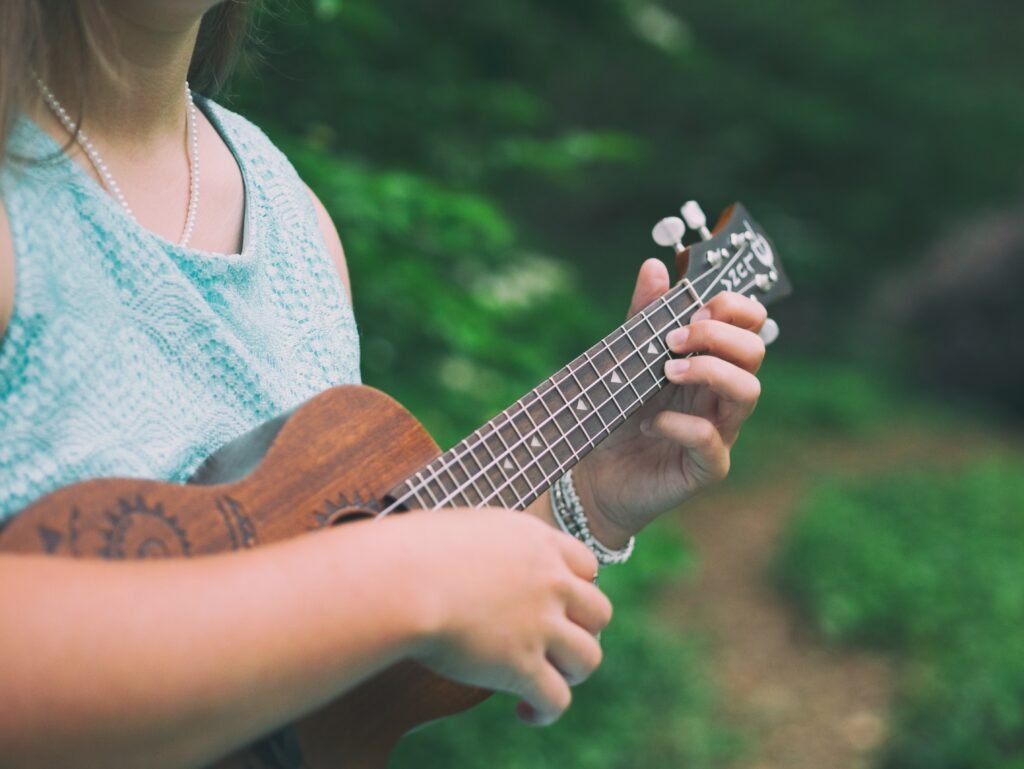 You may not realize it, but learning a musical instrument is all the rage right now. How many people managed to stay sane during lockdown was by choosing a new hobby, or working more on a current one.
One of the hobbies that many people chose was to learn an instrument for the first time. This resulted in unprecedented sales of guitars for household names like Gibson and Fender. But it also resulted in increased sales of many other instruments.
You could easily dismiss this trend as being part of the effect of lockdowns. However, sales are continuing, and people who started to play instruments are also carrying on with their hobby.
One of the more popular instruments to come out of this surprising trend is the ukulele. While it has been dismissed by some as a joke instrument in the past, it has mass appeal and has been championed by many a famous musician.
Is the ukulele really that popular today?
In the US, demand for ukuleles rose by 66% when sales figures from 2020 are compared with 12 months earlier. These figures were taken from Amazon Marketplace, which also recorded heavy demand for the instrument. In fact, the ukulele was the fourth most in-demand instrument in 2020.
Other regions and countries are also showing the same trends. Looking down under, Australia normally imports around 150,00 acoustic guitars every year. This number is dwarfed by that of ukuleles which reach 200,000 units now.
What could have been a novelty instrument, is actually retaining great popularity and is reaching the masses in a big way. However, there is still confusion for some people about what a ukulele is.
What are the basic differences between banjos, mandolins, and the ukulele?
When the word banjo is mentioned, two things spring to mind for many people; the movie Deliverance, and George Formby.
You may have to be from a certain generation to remember either, but George Formby made the banjo popular with his mix of acting, comedy, and music. Deliverance has one of the most iconic pieces of banjo music ever and has been imitated countless times.
The mandolin is an eight-string instrument, originally from Italy, and widely used in folk music and bluegrass. The banjo though has four strings and was made popular in the states through its use in Bluegrass and Dixieland. It also features in traditional Irish music.
The ukulele also has four strings like the banjo and originates in Hawaii. Although it is almost an institution in Hawaii, it was the Portuguese who originally introduced the instrument there.
It was originally used to accompany hula dancing but has now found its way into a variety of musical genres. Where the banjo's strings are stretched over a drum, the ukulele much more resembles the look of a guitar.
Is the ukulele easy to play?
The ukulele is one of the simpler instruments to learn and play. Especially when compared to some other stringed instruments such as the violin, or the harp.
Incidentally, the harp also enjoyed a higher demand during Covid. Clearly, some people decided 4 strings weren't enough and they wanted a bigger challenge.
Learning ukulele chords and scales is much easier than a guitar's. There are only 4 strings and this lowers the learning curve. Plus being made from nylon, the strings are softer on the fingers, and the fretboard is small and manageable.
Why is the ukulele so popular now?
If you want to understand the reasons why this one instrument is grabbing so much attention, then take a quick look at the list below. You can read about some of the items in more detail further down.
Easy to learn
Inexpensive
Light, compact and portable
Great sound
Suitable for many genres
Transferable skills for guitar players
Can boost your confidence
Ukuleles won't break the bank
Okay, the truth is there are some expensive ukuleles on the market. A high-end uke can cost you over $500, and the most expensive one sold for $26,000.
However, a beginner's ukulele can be as little as $50, and you could always buy a secondhand one if your budget is very tight. Be wary though, some very cheap ukuleles will have bad strings. These will need to be changed so you can get a better sound.
They are easy to carry around
This is both a blessing and a curse, especially if you are planning to go backpacking now that travel restrictions are easing.
It is a blessing because a ukulele is smaller than a guitar and easier to carry from your home to the park, or to a friend's home to jam. A curse, because it might mean that every beach and hostel in Southeast Asia will be full of ukulele players next year.
They sound great and can be used in many types of music
Ukuleles may have become famous for their use in traditional Hawaiian music, but they have gone much further now.
Eddie Vedder recorded a full album of ukulele songs. The uke can be used in pop, punk, rock, classical, folk, and whatever you want.
Guitar players can play the ukulele with ease
If you are handy with the guitar then you will find the ukulele simple to play.
Playing the ukulele can boost your self-esteem
Learning to play any instrument can help with a number of areas, including confidence. If you are looking for simple ways to increase your confidence then take up an instrument.
The ability to learn music and be able to play it will give you a sense of accomplishment, and this in turn will improve your confidence. Who knows, you may take on the harp next.
Are there any famous ukulele players?
Just in case you think playing the ukulele is less than cool, then look at some of the names who play, or have played, the instrument.
You already know about Eddie Vedder and George Formby. The late Israel Kamakawiwoʻole, or IZ, was one of the most famous ukulele players, and a big star in Hawaii and the world.
Some more surprising fans of the ukulele though are Johnny Marr, Billie Eilish, Ed Sheeran, and the late George Harrison. Billie Eilish is such a fan that Fender decided to produce a signature ukulele in her name.
If you start learning to play the ukulele and understand chords and scales, then you will put yourself in the same club as Pete Townshend, John Lennon, Vance Joy, and even Elvis. Online resources are available to help learn ukulele chords easily.
Take away
The advantages of playing an instrument, or listening to music, stretch further than just enjoying the sound it makes. Playing an instrument can increase confidence, teach perseverance, and improve concentration levels.
Music can elevate the mood of someone, it can reduce stress, and it can be used to help other mental health issues. After 25 trials, it was concluded that music can be used as a valid form of therapy according to a report by Healthline.
However, perhaps the appeal of the ukulele lies in the happy, wondrous sound that can be made by anyone. Ukuleles are inexpensive, easy to carry around, simple to learn, and even Dwayne Johnson is a fan.