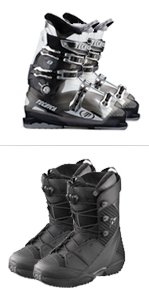 For The Mountain: Malamute Snowboard Boots by Salomon ($320) & Mega 8 by Tecnica ($250)
Whether you're a knuckle dragger or a two-planker, your boots (and bindings, of course) are what keep your strapped down. For skiers, the Powerlace Pro quick-lace system provides no-hassle tightening while allowing your foot to flex. Conformable, molded footbeds stabilize and cushion the foot and allow you to focus on the important things — like not flying into a tree.
The Mega 8 may sound like a name for a speciality sandwich or cheap hotel, but it's actually a futuristic-looking pair of boots that features the Tecnica's proprietary Progressive Cushioning system for superior cushioning. Whether you're a butt dragger or the next Shaun White, these boots will help you cut and carve your way down the mountain … or at least make you look cool while you tumble down the bunny slope.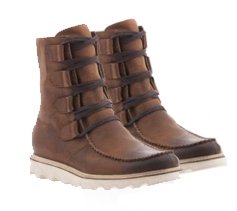 For Retro Cred: Men's Mad Boot Lace by Sorel ($180)
Inspired by the '60s dudes who inspired the dudes on Mad Men, this classic boot will work with slacks, straight-legged jeans, or a suit. Built to resist rain, sleet, snow, booze, and blood, these burnished leather lace-ups have a welted toe and an outsole fashioned after a classic Sorel snowboard boot.
For The Outdoors: Fossil Lewis Logger Boot ($158)
If it involves the woods, chainsaws, or facts about Paul Bunyan, lumberjacks are the experts. Another thing they know — how to suit up to take on the wilderness during the winter. The Lewis Logger boot was inspired by lumberjacks, and contains custom leather and collar padding along with thick, corded laces. They'll keep your feetsies warm while you're out chopping wood, and are comfortable enough to wear indoors on a trek from the couch to the fridge.