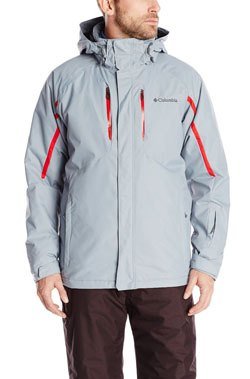 #5. Columbia Men's Cubist IV Jacket ($$180 @ Amazon.com)
Although you may not summit Everest sans oxygen, Columbia gear was developed to keep you warm and cozy in  harsh weather conditions. Omni-Tech waterproof and breathable material keep your layers warm and you looking stylish as you thrash the slopes … or fall on your ass.

#6. Atlas BC24 Snowshoes ($204 @ Amazon.com)
When most folks think of snowshoes, they think of cartoon-like tennis-rackets for your feet. The Atlas BC24 snowshoes, however, are nothing like that. Built for backcountry snowboarders, ice climbers, and mountaineers, they're short enough to fit in a backpack with an extended width that provides plenty of float to stay on top of the snow. The crampons provide traction in tech situations and a climbing bar flips up for steep sections to reduce stress on your calves. Just looking to go for an easy snowshoe at the local golf course? Well, they handle that too.