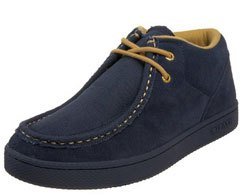 #7. IPATH Cat Sneaker ($50 @ Amazon.com)
Before the iPod, iPhone and iPad, there was IPATH, a small sneaker company founded by skateboarders in New York City and San Francisco more than a decade ago. Moving away from the tech-heavy kicks of the day, they made functional shoes that looked good and utilized hemp and organic cotton. Shearling-lined, the Aboot warms it up a notch while keeping it stylish. Oh, and all IPATHs include a stash pocket in each tongue to tuck away any, uh, valuables of your choosing.

#8. FlyLow Tough Guy Glove ($31 @ Amazon.com)
With so many high tech and spendy gloves on the market, why do the folks who are out there everyday (e.g., ski patrollers) regularly choose work gloves? Well, it's because patrollers are working non-stop and don't need bells and whistles. Bringing warmth, durability, and low cost together, the Tough Guy is waterproofed with bee's wax and is plenty toasty. Now, if you could only ski like a patroller.