When it's cold outside, you may be tempted to move your cardio indoors to treadmills and elliptical machines. And that can be boring. So change things up with an outdoor run once or twice a week, and when you do, you can keep your hands warm with these Hatchbacks. They have a protective finger hood that can be easily tucked away if the weather is mild; breathable microfleece lining to keep you warm, and a polyurethane film to deflect wind.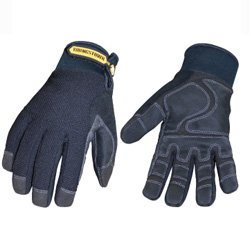 Whether you're shoveling snow, giving your car an oil change in the garage, or finally getting around to removing the Christmas lights, these will keep your hands warm without making them too bulky to get the job done. They feature a microfleece liner, waterproof membrane, and a form-fitting outer shell. There's also added protection on top of the glove's liner that will keep your knuckles safe from bumps and bruises if you're doing manual labor. For once.

These nappa leather gloves feature ribbed detailing and a cashmere liner — it's ultasoft, ultrawarm, and ultra-alluring to women — that will feel so good on your hands you'll be able to silently feel superior to all the other jerks you see with normal gloves on. The Italian imports also come with elastic wristbands to block chilly air from creeping in.