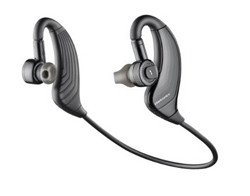 #2. For Weightlifters: Plantronics BackBeat 903 Bluetooth Headphones with Mic ($48 @ Amazon.com)
The good: These headphones are wire-free. So when you're ripping out curls in the gym the goddamn wire won't get stuck on the dumbbell and rip the headphones straight off of your head. You can stream from iPhone, Android, and Blackberry devices. Yes, we were shocked Blackberry is still around, too. One charge earns you up to seven hours of listening, and volume controls sit on and behind one of the eartips.
The bad: The design may not work for your peanut or lightbulb-shaped head. And a handful of reviewers on Amazon questioned the quality of the Bluetooth connectivity.
The fugly: Plantronics went ahead and pulled an Apple by not allowing their charger to be used with any other devices. Dicks.
NEXT: FOR RUNNERS