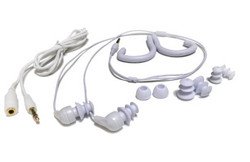 #6. For Swimmers and Sufers: Swimbuds ($40 @ Amazon.com)
The Good: Engineered with a short cord and flanged earbuds to work for hardcore swimmers and those who just want to show their rippling abs — or fat hairy guts— lounging in the pool.
The Bad: Comfortably issues seem to be the main complaint from consumers.
The Fugly: Durability been questioned. Namely, the headphones stop working for no apparent reasons. In other words, your pair could very well be haunted.