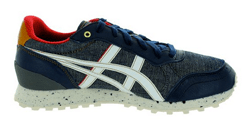 Running shoes: Onitsuka Tiger Colorado Eighty-Five Classic Running Shoe ($56 and up @ Amazon.com)
Whether you jog, run marathons, or simply need a comfy shoe that's versatile enough to use if you ever decided to get off of your ass and run, consider these old-school looking runners from Onitsuka. They're engineered to fit your foot and grip the ground snugly on whatever ground you're on — pavement, basketball court, wet cement. Okay, not really, but you get the idea — these running shoes are quality and look cool.
Or
These lightweight cross trainers are a solid pick for runners or weightlifters. Fitted with FluidAxis flex grooves and two layers of memory foam, they'll keep your feet feeling great no matter how much punishment you're putting them through exercise.  Other colorways include black/silver, light blue/flash yellow, and pink/white (which would make a great gift for your girlfriend).
Also: Cool Watches For Guys That Cost $200 Or Less


Next: The Dress Shoe