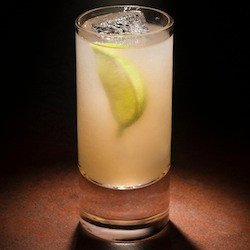 TEQUILA
In Mexico, the Paloma, a blend of blanco tequila and grapefruit soda, is even more popular than the margarita. It's a little bit less sweet, and the carbonation makes it a little bit more refreshing. And while it's pretty perfect as-is, there's no reason you can't mix up the recipe.



Modified Paloma
2 parts reposado tequila
1 part fresh lime juice
1 1/2 parts grapefruit juice
Grapefruit soda
1 dash orange or grapefruit bitters
Combine tequila, lime, and grapefruit juice in a cocktail shaker. Add ice, shake and strain into a highball or Collins glass filled with fresh ice. Top with grapefruit soda. Stir lightly and add one or two dashes bitters.