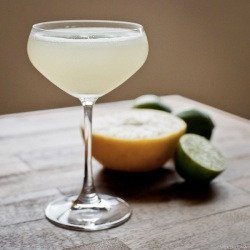 RUM
Before it became a slushy sugar bomb, the Daiquiri was a delicious mix of sugar, lime juice, and rum. "It should be in any man's repertoire," says Philip Greene, author of the new Hemingway-themed bio/cocktail guide To Have and Have Another. You can customize the basic drink with different styles of rum or citrus. "Hemingway knew this, and had his own variation," Greene says.



Hemingway Daiquiri
2 parts white or lightly aged rum
1/2 part maraschino liqueur
1/2 part grapefruit juice
3/4 parts fresh lime juice
3/4 parts simple syrup
Combine all ingredients in a cocktail shaker. Add ice, shake, and strain into a cocktail or martini glass. Garnish with lime wedge.