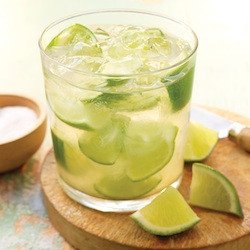 VODKA
Though still hugely popular, vodka has been a much maligned spirit the past few years. People contend either that it all tastes the same, or that it's now all made to taste like cotton candy and whipped cream. While we agree that the flavored vodka is often … less than ideal, the fact is that normal vodka lends itself beautifully to mixed drinks.



Caipiroska
(from Vodka Distilled by Tony Abou-Ganim)
2 parts vodka
1 part simple syrup
1 small lime cut in quarters
Soda water
Fill an Old Fashioned glass with cracked ice cubes. In a mixing glass, add simple syrup and lime quarters. Muddle limes, but not so much the rind separates. Dump the ice from the glass into the mixing glass. Add vodka and shake. Pour the contents (including ice) back into the Old Fashioned glass. Top with soda water if desired.