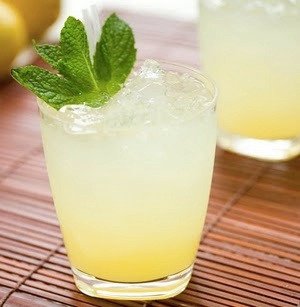 BOURBON
Bourbon can only be called bourbon if it's made in the U.S. and distilled from at least 51 percent corn. (And while it's whiskey just like Scotch is whisky, you may notice that whisk(e)y is spelled differently depending on which spirit you're discussing.) The corn mash imparts a sweetness that works well with mint and citrus. You've no doubt heard of mint juleps. Well, we've got a recipe that's something of the lazy man's mint julep — but every bit as delicious.



Whiskey Smash
2 parts bourbon
3/4 parts simple syrup
6-8 fresh mint leaves
1 mint sprig
3 lemon quarters
In a mixing glass, muddle lemon, simple syrup, and mint. (But don't completely pulverize everything, Conan.) Add bourbon and ice, and shake. Strain into a rocks glass filled with ice, and garnish with mint sprig.