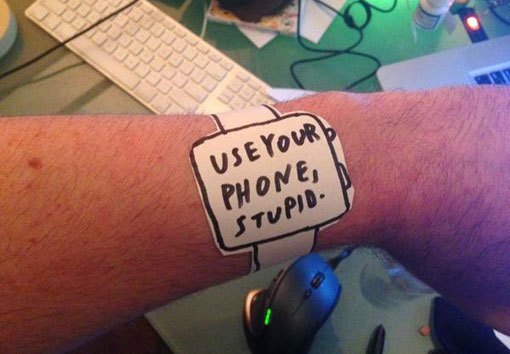 The above photo is technically true. Of course you can use your smartphone as a watch — and a camera, and an organizer, and basically … everything. But wearing a wristwatch isn't just about telling time; it's more about displaying your personality while adding style to your overall appearance. More importantly, as we've mentioned so many times before, women notice the details, so when you put some time into your accessories — tie bar, new, stylish watch, cufflinks, etc. — the extra effort will not go unnoticed.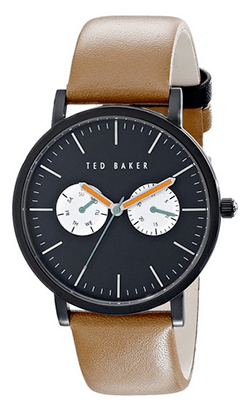 1. Ted Baker Black Stainless Steel Watch ($165 @ Amazon.com)
This clean and sleek water-resistant wristwatch is designed with a caramel-toned leather band and matte black dial. It's a classic look that doesn't look pretentious or like you're trying too hard to get people to notice your watch. (Read: that's exactly what a goddamn watch should do for your style.) The watch face comes together behind a 40 mm stainless steel case with clean number lines, as well as day and date subdials.

Also: Cool Men's Watches Under $50
2. Nixon Sentry With Tan Perforated Leather Band ($149 @ Amazon.com)
Surrounded by 42 mm stainless steel, the Nixon Sentry ups the class with a leather caramel calfskin band with a buckle closure. The white watch face sports an enamel-filled crown, round dial with skeleton hands and date window.
3. Tommy Hilfiger Casual Sport Watch ($125 @ Amazon.com)
Everything is better in black. This sleek wrist watch is designed with durable mineral crystal that protects against scratches. Black leather wraps around the wrist meeting the water resistant watch head. Silver numbers and lines come together for a classy look under sophisticated black.

4. Fossil Machine Chronograph Stainless Steel Watch ($140 @ Amazon.com)
A bold choice with a bold design. This water resistant watch is wrapped in gold and silver stainless steel, with a sleek watch head. The black interior, with gold lines, day and date subdials, are all combined into a water resistant, durable design.

5. Boss Orange Men's Sao Paulo Analog Display Japanese Quartz ($175 @ Amazon.com)
It's not too flashy or aggressive but still manages to demand attention. The Sao Paulo's silver, stainless steel casing houses large bold numbers and skeleton hands. The black dial color leaves a sophisticated background against a bold foreground.




Also: Cool Looking (And Affordable) Minimalist Men's Wristwatches
6. ASUS Zenwatch Wearable Tech with Light Brown Leather Strap ($199 @ Amazon.com)
Futuristic convenience, durability and simplistic style are combined. This watch's futuristic design has an electronic compatibility with the Android 4.3+ smartphone. It also holds a protective AMOLED screen and Corning Gorilla Glass 3 display. The watch is designed with a heart rate monitor and a 100+ combination watch face choices that can be changed to fit the wearer's mood.
7. Vestal Unisex Doppler Analog Display Quartz Black Watch ($200 @ Amazon.com)
Flawless chocolate brown leather wraps around the wrist to display this stylish, stainless steel wrist watch. The case displays classic numbers with 3-hand premium analog. A water resistant design along with heavy duty stainless steal is combined with a simple, sophisticated style.





Also: Stylish Men's Watches For $200 Or Less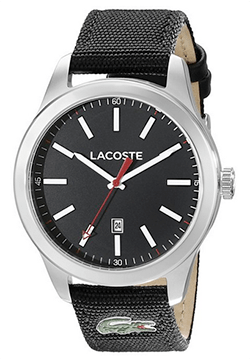 8. Lacoste Men's Auckland Analog Display Japanese Quartz  Watch ($175 @ Amazon.com)
The perfect watch for the man on the move. A black, nylon strap offers comfort and durability while the stainless steel, silver and black watch head offers a classic style. Silver watch hands move behind durable mineral crystal, which protects the watch from scratches.

9. Fossil Men's  Wakefield Chronograph Stainless Steel Watch ($148 @ Amazon.com)
The watch that demands to be seen. This water resistant watch is designed from light gold stainless steel all the way around. An unidirectional design makes convenience a breeze and the gold hands go in an analog-quartz movement.

10. Vestal Unisex  Transom Digital Display Quartz Watch ($130 @ Amazon.com)
The future meets comfort. This 10 ATM water resistant watch is designed with a polyurethane band that fits snugly against the wrist. The 12-hour premium digital time and date display creates an easy-to-read surface. The entire watch is bathed in black, creating a cool, classy appearance.